Bank on net zero
As an institution on its own journey to net zero, we understand the opportunities and can offer sustainable financing to support your energy transition plans.
This is why we've been voted the Best Bank for ESG and Sustainable Financedisclaimer.
Leading the way in sustainable finance
More than a bank
Your environment, social and governance (ESG) partner.
International footprint
Global perspectives from an international team.
Market leader
Award-winning and ground-breaking transactions.
Assisting customers to shift to a net-zero carbon economy
ANZ's purpose is to shape a world where people and communities thrive.
We support our customers in their transition to a low carbon and more sustainable economy by encouraging them to identify climate risks and opportunities, create transition plans and report publicly on their progress.
ANZ is committed to funding and facilitating at least $50 billion towards sustainable solutions for our customers by 2025, including initiatives that help lower carbon emissions and improve environmental sustainability, increase access to affordable housing and promote financial wellbeing.
We support the Paris Agreement's goal of transitioning to Net Zero emissions by 2050 and ANZ's ESG targets support 12 of the 17 United Nations Sustainable Development Goals.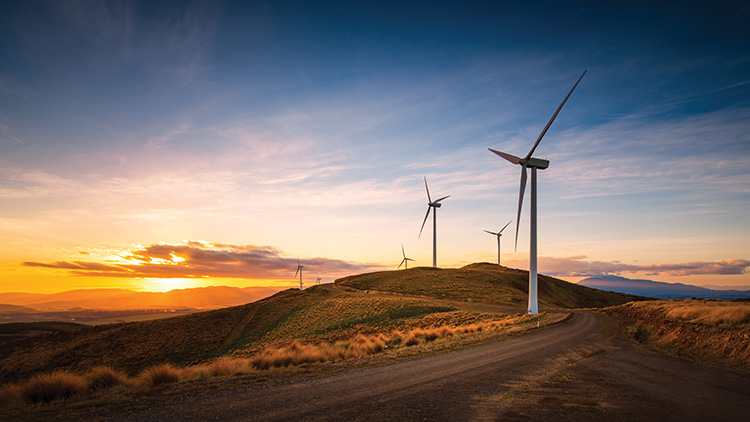 Financing the sustainable transition
Our Sustainable Finance team is working closely with customers to help fund their transition to a low carbon economy.
In the year to September 30 2021 we saw record volume growth, participating in about $119 billion of transactional volume across 81 deals in multiple currencies across Australia, New Zealand, Asia, Europe and the US.
International footprint
ANZ has a team of dedicated sustainable finance staff across Australia, New Zealand, Singapore, Hong Kong and London. Our global team has technical sustainability expertise and extensive experience across multiple banking products and industry sectors.
Access to debt capital markets
ANZ is a market-leading arranger in this rapidly growing sector. We work closely with our Debt Capital Markets and Loan Syndications teams globally to bring a deep understanding of all considerations to ensure successful green, social or sustainability transactions.
Our sustainable finance product offering includes:
Green, social and sustainability bonds
Green, social and sustainability loans
Sustainability-linked loans
Sustainability-linked bonds
Sustainability-linked derivatives
Sustainability-linked guarantees
Green guarantees
Sustainable supply chain facility
Asset categories
Asset categories

Green

Renewable energy
Energy efficiency
Transportation
Infrastructure and buildings
Water
Waste

Social

Essential services
Affordable housing
Employment
Socioeconomic advancement
Food security
ANZ Insights
The latest market-leading news, analysis and thought leadership from our experts across more than 30 global markets.
A new project looks to integrate native reforestation and carbon farming.

2022-03-31 00:00

Market and industry updates, emerging trends and global activity around sustainable and green loans, bonds and linked loans, and transition finance.

2022-05-05 04:30

Organisations have a lot to gain from how they transform in the transition to net zero.

2022-02-16 00:00
Speak to us about our banking solutions
We're dedicated to ensuring that environmental sustainability is at the centre of our strategies, planning and decisions. If you want a partner to help you achieve your sustainable finance ambitions, speak to us today to discuss how this may fit for your business.

If you're an existing customer
speak to your ANZ Relationship Manager
or Account Manager

Data and digital
Our expert analysts enrich your data and utilise advanced modelling to help you unlock insights that drive your decision making.

Relationships
Find out why for the seventh-straight year, we've been named #1 Lead Institutional Bank and Most Reliable & Dependable for Fundingdisclaimer, disclaimer.