ANZ Institutional Insights
The latest market-leading news, analysis and thought leadership from our experts across more than 30 global markets.
The Reserve bank of New Zealand is staring down twin risks as it battles rising inflation.

2022-05-20 00:00
Asian shipping logistics firm closes iSLL to support acquisition of a new fleet of vessels.

2022-05-16 00:00

Global sustainable finance issuance slowed in the first quarter compared to the year prior, hurt by higher cost of debt and the crisis in Europe.

2022-05-04 00:00

Many sectors across both economies will benefit from the newly signed Australia-India Economic Cooperation and Trade Agreement.

2022-05-03 00:00

ANZ Institutional first-half result shows ongoing commitment to helping customers grow sustainably and embrace the transition to digital.

2022-05-04 00:00

Recent better-than-expected data fails to ease market concerns. Further measures will be required to address underlying growth issues.

2022-04-28 00:00

At ANZ, we're serious about helping customers on the road to net zero – and we've now been recognised as the best in the business for doing so.

2022-05-09 00:00

The future of supply chains is transparent, automated and data driven – and overall optimistic, according to a panel of experts.

2022-04-14 00:00

The Australia-India Economic Cooperation and Trade Agreement has the potential to significantly bolster trade between the two nations.

2022-04-28 00:00

Expectations from businesses on how they fund themselves and manage transactions in the future are changing – and banks need to adapt to keep pace.

2022-03-24 00:00

ANZ Research expects the global economy to retain strong momentum despite the crisis in Europe.

2022-03-28 00:00

View of climate has shifted from risk-based to opportunity-based, ANZ Institutional's Head of REI says.

2022-03-23 00:00

In the latest Blue Lens on Mic, hear Richard Yetsenga chat about China in the COVID era with Winston Zhao & Prof. Xiaoyan Zhang.

2022-03-14 00:00
Keep in touch with ANZ Insights
Sign up to receive market and economic commentary, giving you fresh ideas and
different perspectives on the industries and topics that matter to you.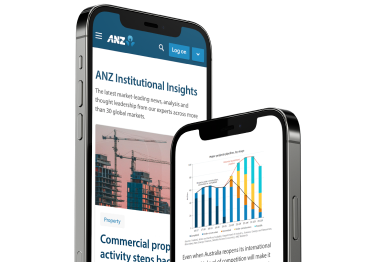 This publication is published by Australia and New Zealand Banking Group Limited ABN 11 005 357 522 ("ANZBGL") in Australia. This publication is intended as thought-leadership material. It is not published with the intention of providing any direct or indirect recommendations relating to any financial product, asset class or trading strategy. The information in this publication is not intended to influence any person to make a decision in relation to a financial product or class of financial products. It is general in nature and does not take account of the circumstances of any individual or class of individuals. Nothing in this publication constitutes a recommendation, solicitation or offer by ANZBGL or its branches or subsidiaries (collectively "ANZ") to you to acquire a product or service, or an offer by ANZ to provide you with other products or services. All information contained in this publication is based on information available at the time of publication. While this publication has been prepared in good faith, no representation, warranty, assurance or undertaking is or will be made, and no responsibility or liability is or will be accepted by ANZ in relation to the accuracy or completeness of this publication or the use of information contained in this publication. ANZ does not provide any financial, investment, legal or taxation advice in connection with this publication.