ANZ Institutional Insights
The latest market-leading news, analysis and thought leadership from our experts across more than 30 global markets.
Australia's major projects pipeline is expected to peak at $A95 billion per year, despite difficult conditions.

2022-08-17 00:00
Global sustainable debt market swells to almost $A5 trillion, despite fall in issuance for June quarter.

2022-07-28 00:00

Moves across the ASEAN region to unwind a pandemic-era spike in public debt will be challenging for many economies.

2022-08-01 00:00

Economic distribution across Indonesia is shifting and domestic strengths are coming through, expert says.

2022-07-15 00:00

ANZ's latest stablecoin transaction brings together two areas of significant focus for the bank - sustainability and digital assets.

2022-07-01 00:00

BP's Frédéric Baudry and ANZ's Mark Whelan speak about the role of multinational groups and the importance of partnerships on the path to net zero.

2022-06-26 00:00

ANZ has again been recognised as a market leader in the transaction banking space.

2022-07-29 00:00

China's carbon-neutrality plan has wide-ranging impacts for green investment, which could reach 13 trillion renminbi in size.

2022-07-20 00:00

Historian and author expects conditions hurting market confidence to continue well into the second half of calendar 2022.

2022-07-05 00:00

Growth in the world's largest economy is likely to stall, but the depth is what ultimately matters.

2022-07-12 00:00

ANZ Research now expects the vast bulk of monetary policy tightening in advanced economies to be completed by the end of 2022.

2022-06-30 00:00

Australia's inflation issue stems from insufficient supply, ANZ's Chief Economist says - and the policy outlook for the next year is challenging.

2022-06-29 00:00

BP's Frédéric Baudry and ANZ's Mark Whelan chat about the speed of the transition to net zero - and why it might happen quicker than we thought.

2022-06-27 00:00
Keep in touch with ANZ Insights
Sign up to receive market and economic commentary, giving you fresh ideas and
different perspectives on the industries and topics that matter to you.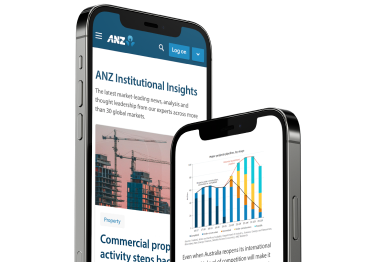 This publication is published by Australia and New Zealand Banking Group Limited ABN 11 005 357 522 ("ANZBGL") in Australia. This publication is intended as thought-leadership material. It is not published with the intention of providing any direct or indirect recommendations relating to any financial product, asset class or trading strategy. The information in this publication is not intended to influence any person to make a decision in relation to a financial product or class of financial products. It is general in nature and does not take account of the circumstances of any individual or class of individuals. Nothing in this publication constitutes a recommendation, solicitation or offer by ANZBGL or its branches or subsidiaries (collectively "ANZ") to you to acquire a product or service, or an offer by ANZ to provide you with other products or services. All information contained in this publication is based on information available at the time of publication. While this publication has been prepared in good faith, no representation, warranty, assurance or undertaking is or will be made, and no responsibility or liability is or will be accepted by ANZ in relation to the accuracy or completeness of this publication or the use of information contained in this publication. ANZ does not provide any financial, investment, legal or taxation advice in connection with this publication.