ANZ Hydrogen Handbook – AH2
Hydrogen is emerging as an alternative low-emissions fuel source in the transition to net-zero by 2050 across the global economy. With abundant wind and solar energy resources, Australia is well positioned to play a pivotal role in developing a hydrogen export market to Asia.
The ANZ Hydrogen Handbook is a useful research tool with up-to-date, insightful and practical information on this developing opportunity.
Unlock the hydrogen economy with ANZ
ANZ's goal is to be the go-to bank to help customers develop new technologies, products and services in this emerging resource.
Resources, energy and infrastructure
ANZ Institutional provides expert advice and tailored banking solutions to the resources, energy and infrastructure industries doing business in Australia, New Zealand and Asia-Pacific.
Sustainable finance
Our specialists offer a range of sustainable finance solutions to address issues that matter to society such as financial wellbeing, environmental sustainability and housing.
In the race to develop a hydrogen export hub, the investment opportunities in Australia are vast.

2022-03-07 00:00

The commercialisation of hydrogen gives Australia a unique opportunity to develop a new export commodity to help in the rapid decarbonisation of the global economy.

2022-02-10 00:00

Hydrogen is classified differently depending on how it is produced. To fully take advantage of the opportunity, knowing what makes green hydrogen green is critical.

2022-02-10 00:00

The capital to invest in the Asia's renewable energy sector exists but development continues to be stymied by insufficient bankable projects, experts agree.

2020-12-11 00:00

Australia is uniquely poised to lead the emerging market for hydrogen – energy from the world's most abundant chemical element.

2020-11-26 00:00

Hydrogen - along with oxygen, a constituent of water - is also a fuel of the future. And potentially a climate change saviour.

2020-05-19 00:00
Keep in touch with ANZ Insights
Sign up to receive market and economic commentary, giving you fresh ideas and
different perspectives on the industries and topics that matter to you.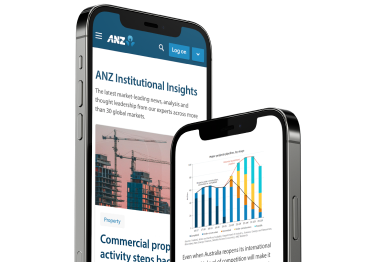 This publication is published by Australia and New Zealand Banking Group Limited ABN 11 005 357 522 ("ANZBGL") in Australia. This publication is intended as thought-leadership material. It is not published with the intention of providing any direct or indirect recommendations relating to any financial product, asset class or trading strategy. The information in this publication is not intended to influence any person to make a decision in relation to a financial product or class of financial products. It is general in nature and does not take account of the circumstances of any individual or class of individuals. Nothing in this publication constitutes a recommendation, solicitation or offer by ANZBGL or its branches or subsidiaries (collectively "ANZ") to you to acquire a product or service, or an offer by ANZ to provide you with other products or services. All information contained in this publication is based on information available at the time of publication. While this publication has been prepared in good faith, no representation, warranty, assurance or undertaking is or will be made, and no responsibility or liability is or will be accepted by ANZ in relation to the accuracy or completeness of this publication or the use of information contained in this publication. ANZ does not provide any financial, investment, legal or taxation advice in connection with this publication.