Give your child a good head-start
Saving for a child's education and getting ready for their future career is a parent's top concern.
Let us help protect you and your child by providing a comprehensive education fund and financial support. My Child*, a perfect financial plan, will help give your child the most effective education and career plan.
High savings: Your child is guaranteed to receive cash coupons from 160% – 180% of the assured sum for their expenses in university or post-graduate life. The total amount of money you will receive is even more as you can earn dividends paid by the company every year as well as extra accumulated interests on dividends and cash coupons if these are not withdrawn until contract maturity.
Comprehensive protection: insurance coverage of up to 10 different types of critical illness, accidental injuries and death benefit.
Protection of your investment: the education fund is protected even when unexpected events occurs to the policy owners. Your family can receive the benefit of premium waivers and regular income benefits of 10% of the assured amount.
Other outstanding advantages include:
Top-notch award
Free coverage for 3-4 years (depending on the agreed investment plan)
Opportunity for the whole family to be insured in one policy.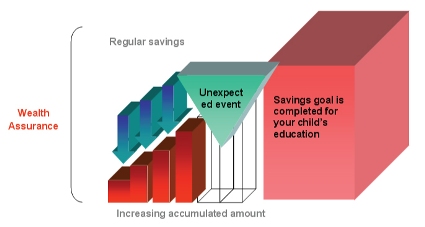 Enhancing main policy's benefits with extra options
Attached to main policy with small premium payment, extra options can enhance the saving and protection plan of the whole family:
| Products | Benefits |
| --- | --- |
| Accidental dismemberment, Total Permanent Disability | Benefit can be up to 4 times the face amount of the basic policy |
| Term rider | Benefit can be up to 5 times the face amount of the basic policy |
| Medicash | Providing cash benefit in case the insured has to stay in hospital |
Example: You are 32 years old and buy My Child – University Plan with sum assured of 100 mil dong for your one-year-old child:
Annual investment amount  is about 8.2 million dong
You invest in 17 years, but your child is insured until he is 22
Insurance coverage is up to 200 million dong
Total return on investment of maturity benefit is up to 273 million dong, including 4 cash coupons valued at 160 million dong.
Do you want to explore more?

For further information about these products, please contact us at 1900 1276 or arrive at your nearest ANZ's branches.