Trade and economy
From our expertise in moving goods and capital across the region, we bring you market-leading trade and economic coverage from across our extensive global network. Our news and analysis provide you with unique and market-leading insight to helping your business thrive in an era of uncertainty.
Australian businesses want to embrace the international opportunity – but it can be harder than it should be.

2023-10-17 00:00
ANZ has helped Hyundai secure sustainable funding to expand its EV manufacturing to the United States.

2023-11-30 00:00

The FB&A sector has an opportunity to reassess not just its impact on biodiversity - but how it can harness the value in a shift toward nature.

2023-11-30 00:00

Food inflation pressure looms as a risk for all sections of the Australian agriculture supply chain.

2023-11-22 00:00

ANZ Institutional has continued to help its customers make the transition to the digital economy.

2023-11-13 00:00

Australian businesses want to embrace the international opportunity – but it can be harder than it should be.

2023-10-17 00:00

As the US and China's tit-for-tat innovation policies shore up strategically critical industries, one expert is wondering which sector is next in their sights.

2023-11-02 00:00

China today is not like it was two decades ago – but its next opportunity is clear.

2023-10-31 00:00

China is not the overwhelming capital player in Asia it once was, creating opportunities for other economies – and businesses.

2023-10-18 00:00

Inflation data suggest FOMC won't be cutting anytime soon, expert says on podcast.

2023-10-13 00:00

Growth in the second half of 2023 won't match that seen in the first, but a modest pick-up is on the cards in the medium term.

2023-09-28 00:00

The Sibos financial services conference brings together banking's biggest innovators. Here's what they'll discuss in 2023.

2023-08-03 00:00

ANZ Financial Institutions Insights newsletter explores how generative AI will become a tool financial institutions need to embrace to maintain a competitive advantage, with an expert panel assembled by ANZ.

2023-09-15 04:30

ANZ's chief economist explains the key things he is taking away from his recent visit to India.

2023-10-03 00:00

Food inflation looms at another front in the RBI's inflation battle – and it can't be shrugged off as entirely transient.

2023-09-27 00:00

Asia's smartest city is investing in tech right on the edge of innovation. Our infographic gives you an overview.

2023-09-19 00:00

Sometimes you can learn more from innovating than the innovation itself.

2023-09-15 00:00

A young professional explains what heading to Sibos 2023 means for her – and ANZ's commitment to female talent.

2023-09-07 00:00

Trust in the payment system is critical for all participants to maintain, two experts say on podcast.

2023-09-05 00:00

Businesses have a lot of questions about sustainable finance – and the nature of those questions is changing. Here's why.

2023-09-04 00:00

Australia's lower-than-expected CPI data helps take pressure of the RBA on interest rates, expert says on podcast.

2023-09-01 00:00

Australia is "on the precipice" of real-time, cross-border payments with the incoming NPP International Payments Service.

2023-08-31 00:00

Everyone wants to be on "the India train". Two experts tell ANZ's Richard Yetsenga why.

2023-08-29 00:00

Climate conditions in the region are putting pressure on sectors such as agriculture and food, expert says on podcast.

2023-08-18 00:00

The global hydrogen market is heating up, but Australia remains in the box seat to take advantage of the opportunity.

2023-08-21 00:00

China's shifting growth signals a new landscape for business operating in the Asia Pacific.

2023-07-30 04:30

With the right kind of reforms, India can accelerate its already impressive growth – and keep it high for longer.

2023-07-27 04:30

China is slowing, but NZ can rely on Chinese demand for a long time to come.

2023-07-25 04:30

The transition to net-zero carbon won't be linear, two experts say on podcast – so keeping momentum will be paramount.

2023-07-23 04:30

In part two of our energy-efficiency discussion, our experts discuss why energy efficiency is a valuable tool for meeting Australia's future emissions targets.

2023-07-17 04:30

Local data, improving global inflation prospects and anecdotal evidence suggest an extended pause at 4.1 per cent is now likely for the RBA.

2023-07-16 04:30
Keep in touch with ANZ Insights
Sign up to receive market and economic commentary, giving you fresh ideas and
different perspectives on the industries and topics that matter to you.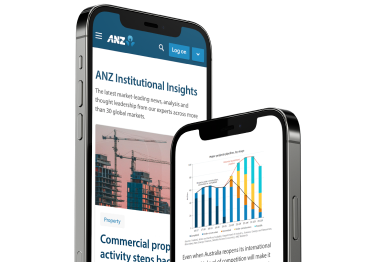 This publication is published by Australia and New Zealand Banking Group Limited ABN 11 005 357 522 ("ANZBGL") in Australia. This publication is intended as thought-leadership material. It is not published with the intention of providing any direct or indirect recommendations relating to any financial product, asset class or trading strategy. The information in this publication is not intended to influence any person to make a decision in relation to a financial product or class of financial products. It is general in nature and does not take account of the circumstances of any individual or class of individuals. Nothing in this publication constitutes a recommendation, solicitation or offer by ANZBGL or its branches or subsidiaries (collectively "ANZ") to you to acquire a product or service, or an offer by ANZ to provide you with other products or services. All information contained in this publication is based on information available at the time of publication. While this publication has been prepared in good faith, no representation, warranty, assurance or undertaking is or will be made, and no responsibility or liability is or will be accepted by ANZ in relation to the accuracy or completeness of this publication or the use of information contained in this publication. ANZ does not provide any financial, investment, legal or taxation advice in connection with this publication.