Trade and economy
From our expertise in moving goods and capital across the region, we bring you market-leading trade and economic coverage from across our extensive global network. Our news and analysis provide you with unique and market-leading insight to helping your business thrive in an era of uncertainty.
The first-order economic impacts of the crisis are unlikely to be substantial, outside Europe.

2022-03-02 00:00
The Reserve bank of New Zealand is staring down twin risks as it battles rising inflation.

2022-05-20 00:00

ANZ Institutional first-half result shows ongoing commitment to helping customers grow sustainably and embrace the transition to digital.

2022-05-04 00:00

Many sectors across both economies will benefit from the newly signed Australia-India Economic Cooperation and Trade Agreement.

2022-05-03 00:00

The Australia-India Economic Cooperation and Trade Agreement has the potential to significantly bolster trade between the two nations.

2022-04-28 00:00

Recent better-than-expected data fails to ease market concerns. Further measures will be required to address underlying growth issues.

2022-04-28 00:00

ANZ Research is forecasting slightly higher rates of inflation than the Australian Government, the Federal Budget shows.

2022-03-30 00:00

See all the details of the 2022-23 Federal Budget visualised in an easy-to-read format.

2022-03-30 00:00

The level of spending announced by the Federal Government in the Budget is quite a bit more than ANZ Research expected.

2022-03-30 00:00

Despite reporting a reduced deficit off the back of larger-than-expected tax revenues, spending dominates the 2022-23 Federal Budget.

2022-03-30 00:00

Policy has taken Australia out of the secular stagnation era, and now needs to cement those gains, ANZ's chief economist says.

2022-03-29 00:00

ANZ Research expects to see a substantial improvement in Australia's deficit on the release of the country's Federal Budget.

2022-03-24 00:00

In the latest Blue Lens on Mic, hear Richard Yetsenga chat about China in the COVID era with Winston Zhao & Prof. Xiaoyan Zhang.

2022-03-14 00:00

In the race to develop a hydrogen export hub, the investment opportunities in Australia are vast.

2022-03-07 00:00

Australian Federal Budget expected to show sharp improvement in country's fiscal position, driven by improving outlook.

2022-02-28 00:00

Economic momentum decelerated in the fourth quarter, the ANZ Stateometer shows, although performances were still above trend. The outlook for 2022 is positive.

2022-02-24 00:00

Coalition Greenwich names ANZ the Greenwich Quality Leader in Asia for the fifth-consecutive year.

2022-02-24 00:00

ANZ's Shayne Elliott and Tammy Medard chat on video about COVID, the outlook and how the bank is positioned to help its customers.

2022-02-17 00:00

Organisations have a lot to gain from how they transform in the transition to net zero.

2022-02-16 00:00

Strategic partnership between ANZ and Pollination will provide innovative financing solutions amid the transition to net-zero, according to Katharine Tapley and Zoe Whitton.

2022-02-16 00:00

Martijn Wilder & Mark Whelan chat on video about how the strategic partnership between ANZ & Pollination will help drive innovative solutions for their customers.

2022-02-16 00:00

Developing technology will continue to produce new and innovative ways to offer financial services in the new year.

2022-02-14 00:00

The commercialisation of hydrogen gives Australia a unique opportunity to develop a new export commodity to help in the rapid decarbonisation of the global economy.

2022-02-10 00:00

Hydrogen is classified differently depending on how it is produced. To fully take advantage of the opportunity, knowing what makes green hydrogen green is critical.

2022-02-10 00:00

Primary issuance in global debt capital markets is expected to broadly be lower in 2022, however financial sector issuance is expected to drive significant activity - and opportunity - in the Australian dollar bond market.

2022-02-04 00:00

Hear from ANZ's China economists on the outlook for China in the Year of the Tiger as part of ANZ Institutional's Outlook 2022 series.

2022-01-31 00:00

The three key themes likely to dominate the agribusiness sector in 2022 are already reshaping the sector today.

2022-01-20 00:00

Latest COVID-19 outbreak presents economic risks, and zero-tolerance requires China to lift its countercyclical policy stance.

2022-01-11 00:00

At a recent virtual event organised by ANZ Financial Institutions Group, a panel of experts found that the insurance industry can – and will – play a key role in promoting ESG investing, but more still needs to be done.

2022-01-25 00:00

Asia's path in 2022 looks brighter as the pace of vaccination across the region quickens.

2021-12-16 00:00

Continued new investment in the resources, energy, infrastructure sectors throughout 2022 to drive financing activity.

2021-12-13 00:00
Keep in touch with ANZ Insights
Sign up to receive market and economic commentary, giving you fresh ideas and
different perspectives on the industries and topics that matter to you.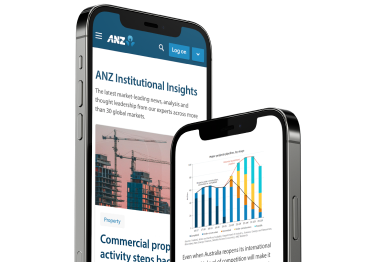 This publication is published by Australia and New Zealand Banking Group Limited ABN 11 005 357 522 ("ANZBGL") in Australia. This publication is intended as thought-leadership material. It is not published with the intention of providing any direct or indirect recommendations relating to any financial product, asset class or trading strategy. The information in this publication is not intended to influence any person to make a decision in relation to a financial product or class of financial products. It is general in nature and does not take account of the circumstances of any individual or class of individuals. Nothing in this publication constitutes a recommendation, solicitation or offer by ANZBGL or its branches or subsidiaries (collectively "ANZ") to you to acquire a product or service, or an offer by ANZ to provide you with other products or services. All information contained in this publication is based on information available at the time of publication. While this publication has been prepared in good faith, no representation, warranty, assurance or undertaking is or will be made, and no responsibility or liability is or will be accepted by ANZ in relation to the accuracy or completeness of this publication or the use of information contained in this publication. ANZ does not provide any financial, investment, legal or taxation advice in connection with this publication.