Trade and economy
From our expertise in moving goods and capital across the region, we bring you market-leading trade and economic coverage from across our extensive global network. Our news and analysis provide you with unique and market-leading insight to helping your business thrive in an era of uncertainty.
US central bank seemingly content as market fully prices in 75 basis point rate hike for September.

2022-09-13 00:00
In our latest infographic, see how the buildings of the future will be sustainable, efficient, and change the way you work.

2022-09-30 00:00

It's not just about payments. Nigel Dobosn & Jackie Kallman talk on podcast about the development of digital currencies.

2022-09-21 00:00

Sibos sets the agenda for the financial services industry – and ANZ will be there in 2022, with the success of its customers front of mind.

2022-09-14 00:00

Asia may be approaching peak inflation – but will that be enough to stop the region's central banks?

2022-09-06 00:00

ANZ's Lisa Vasic and Richard Hough chat on podcast about open banking, data, and delivering customers solutions that can really make a difference.

2022-09-06 00:00

The major projects pipeline in the Sunshine State could rise by more than 50 per cent in the medium term.

2022-08-30 00:00

Some pessimism about future prosperity should unwind.

2022-08-26 00:00

Economic momentum in most of Australia's states and territories has slowed, the ANZ Stateometer shows – but remains above trend.

2022-08-25 00:00

Australia's major projects pipeline is expected to peak at $A95 billion per year, despite difficult conditions.

2022-08-17 00:00

Moves across the ASEAN region to unwind a pandemic-era spike in public debt will be challenging for many economies.

2022-08-01 00:00

Global sustainable debt market swells to almost $A5 trillion, despite fall in issuance for June quarter.

2022-07-28 00:00

China's carbon-neutrality plan has wide-ranging impacts for green investment, which could reach 13 trillion renminbi in size.

2022-07-20 00:00

Economic distribution across Indonesia is shifting and domestic strengths are coming through, expert says.

2022-07-15 00:00

BP's Frédéric Baudry and ANZ's Mark Whelan chat about the speed of the transition to net zero - and why it might happen quicker than we thought.

2022-06-27 00:00

BP's Frédéric Baudry and ANZ's Mark Whelan speak about the role of multinational groups and the importance of partnerships on the path to net zero.

2022-06-26 00:00

Two ANZ experts explain how the ESG market is maturing through a 'second innings', and why the pace of change will only increase.

2022-06-16 00:00

ANZ Institutional has been named the country's lead bank for market penetration for the seventh consecutive year by Peter Lee Associates.

2022-06-06 00:00

ANZ's Chief Economist explains the macroeconomic impacts of the change of federal government in Australia.

2022-05-23 00:00

The Reserve bank of New Zealand is staring down twin risks as it battles rising inflation.

2022-05-20 00:00

Sharp increase in trade drove economic momentum in the first quarter, the ANZ Stateometer shows, despite slew of challenges.

2022-05-19 00:00

ANZ Institutional first-half result shows ongoing commitment to helping customers grow sustainably and embrace the transition to digital.

2022-05-04 00:00

Many sectors across both economies will benefit from the newly signed Australia-India Economic Cooperation and Trade Agreement.

2022-05-03 00:00

The Australia-India Economic Cooperation and Trade Agreement has the potential to significantly bolster trade between the two nations.

2022-04-28 00:00

Recent better-than-expected data fails to ease market concerns. Further measures will be required to address underlying growth issues.

2022-04-28 00:00

A new project looks to integrate native reforestation and carbon farming.

2022-03-31 00:00

ANZ Research is forecasting slightly higher rates of inflation than the Australian Government, the Federal Budget shows.

2022-03-29 00:00

See all the details of the 2022-23 Federal Budget visualised in an easy-to-read format.

2022-03-29 00:00

The level of spending announced by the Federal Government in the Budget is quite a bit more than ANZ Research expected.

2022-03-30 00:00

Despite reporting a reduced deficit off the back of larger-than-expected tax revenues, spending dominates the 2022-23 Federal Budget.

2022-03-29 00:00

Policy has taken Australia out of the secular stagnation era, and now needs to cement those gains, ANZ's chief economist says.

2022-03-28 00:00
Keep in touch with ANZ Insights
Sign up to receive market and economic commentary, giving you fresh ideas and
different perspectives on the industries and topics that matter to you.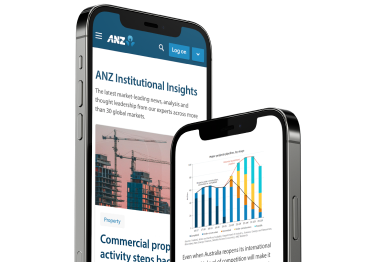 This publication is published by Australia and New Zealand Banking Group Limited ABN 11 005 357 522 ("ANZBGL") in Australia. This publication is intended as thought-leadership material. It is not published with the intention of providing any direct or indirect recommendations relating to any financial product, asset class or trading strategy. The information in this publication is not intended to influence any person to make a decision in relation to a financial product or class of financial products. It is general in nature and does not take account of the circumstances of any individual or class of individuals. Nothing in this publication constitutes a recommendation, solicitation or offer by ANZBGL or its branches or subsidiaries (collectively "ANZ") to you to acquire a product or service, or an offer by ANZ to provide you with other products or services. All information contained in this publication is based on information available at the time of publication. While this publication has been prepared in good faith, no representation, warranty, assurance or undertaking is or will be made, and no responsibility or liability is or will be accepted by ANZ in relation to the accuracy or completeness of this publication or the use of information contained in this publication. ANZ does not provide any financial, investment, legal or taxation advice in connection with this publication.