Future ready
Modern businesses require modern solutions. See the latest market-leading insights from the experts at ANZ on technology, data and analytics, the impact of digital, what the outlook looks like in a post-pandemic world, and more.
AI could simplify the guarantees process – and set a precedent for all document-heavy financial services processes.

2022-10-07 00:00
The New Year will be all about businesses realising the benefits of digital.

2022-12-21 00:00

The big talk around technology is set to convert into big opportunity in 2023.

2022-12-12 00:00

The trajectory of digital currencies in Australia in 2023 has the potential to transform how we make payments.

2022-12-08 00:00

Cyber security is a team sport.

2022-12-06 00:00

Cybersecurity has never been more important, and there are steps all businesses can take to build resilience.

2022-11-29 00:00

An automotive industry shift toward net-zero carbon – including the rise of electronic vehicles – is increasingly being supported by sustainable financing.

2022-10-17 00:00

The pandemic forced the world to lean into digitisation – and successful business have adapted accordingly.

2022-10-28 00:00

Two ANZ experts talk about the latest innovation in the guarantee space.

2021-10-14 03:00

The need to adopt technology in order to build a smarter and more resilient global supply chain is undeniable.

2021-10-15 03:00

Businesses need to invest in their workforce now to ensure it can keep pace with change and harness their human capital.

2021-10-27 03:00

Interoperability of domestic systems means a single 'nexus' - or at least multiple interconnected networks – looks inevitable for real-time payment networks.

2021-09-27 00:00

There are steps each party can take to ensure they form effective partnerships.

Businesses around the world are adapting to the new normal for their staff.

2021-09-30 02:00

AI could simplify the guarantees process – and set a precedent for all document-heavy financial services processes.

2022-10-07 00:00

ANZ's Lisa Vasic and Richard Hough chat on podcast about open banking, data, and delivering customers solutions that can really make a difference.

2022-09-06 00:00

We focused so much on domestic real-time payments networks it was hard when we tried to move globally. We must heed that lesson with CBDCs.

For business trying to make the most of their data in an increasingly digital world, keeping information secure is critical.

Leigh Mahoney talks on podcast about the innovation driving the current trends in APIs.

2022-10-04 00:00

ISO 20022 reaches another milestone in November. ANZ's Luke Perkins and Carolyn Young chat through the current slate for RTP.

2022-10-03 00:00

In our latest infographic, see how the buildings of the future will be sustainable, efficient, and change the way you work.

2022-09-30 00:00

It's not just about payments. Nigel Dobosn & Jackie Kallman talk on podcast about the development of digital currencies.

2022-09-21 00:00

ANZ sees rise in demand for green guarantees as businesses continue to embrace sustainable financial solutions.

2022-09-21 00:00

Algorithmic execution is an increasingly popular tool for businesses looking to actively manage FX risk and lower the cost of trade.

2022-08-23 00:00

Data has never been more readily available, nor has the promise of helping us better understand the world around us and make data-driven decisions more achievable

2022-08-10 04:30

For modern businesses, the winning attributes in a digital world are speed, data and control. Are APIs a silver bullet?

2022-05-30 00:00

Find out why RTPNs are becoming critical to modern business operations, the tangible differences they are making for businesses, and what this means for those who wish to keep pace with competitors.

2022-06-20 00:00

Data aren't Coca-Cola. ANZ's chief economist explains why – and offers his learnings on applying data in your workplace.

2022-05-27 00:00

The latest developments, theories and ideas in digital currencies, and the implications for businesses.

2022-04-12 00:00

Expectations from businesses on how they fund themselves and manage transactions in the future are changing – and banks need to adapt to keep pace.

2022-03-24 00:00

ANZ's Shayne Elliott and Tammy Medard chat on video about the value of data to business as the world emerges from the pandemic.

2022-02-27 05:30
Keep in touch with ANZ Insights
Sign up to receive market and economic commentary, giving you fresh ideas and
different perspectives on the industries and topics that matter to you.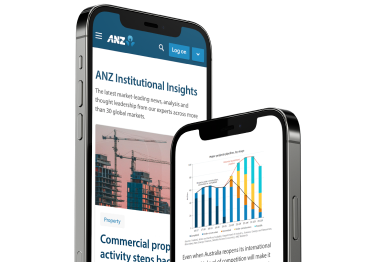 This publication is published by Australia and New Zealand Banking Group Limited ABN 11 005 357 522 ("ANZBGL") in Australia. This publication is intended as thought-leadership material. It is not published with the intention of providing any direct or indirect recommendations relating to any financial product, asset class or trading strategy. The information in this publication is not intended to influence any person to make a decision in relation to a financial product or class of financial products. It is general in nature and does not take account of the circumstances of any individual or class of individuals. Nothing in this publication constitutes a recommendation, solicitation or offer by ANZBGL or its branches or subsidiaries (collectively "ANZ") to you to acquire a product or service, or an offer by ANZ to provide you with other products or services. All information contained in this publication is based on information available at the time of publication. While this publication has been prepared in good faith, no representation, warranty, assurance or undertaking is or will be made, and no responsibility or liability is or will be accepted by ANZ in relation to the accuracy or completeness of this publication or the use of information contained in this publication. ANZ does not provide any financial, investment, legal or taxation advice in connection with this publication.