Greener Pastures 2
ANZ's Greener Pastures 2 takes a detailed look at how the Australian agricultural sector has developed to become a world leader, not just on production of quality and safe food and fibre products, but in areas such as environmental awareness and investment flows.
This publication examines key themes that are central to Australian agriculture reaching its full potential: supply chain capital flows, green technology, sustainability for economic advancement such as carbon capture, the trade landscape, and promoting advocacy and industry cohesion.
Our relationship approach
Our aim is to become your strategic and trusted partner, a partner who deeply understands your growth opportunities and challenges and provides expert advice.
Food, beverage and agriculture industry
ANZ provides expert advice and tailored banking solutions to the food, beverage and agriculture industries doing business in Australia, New Zealand and Asia-Pacific.
Trade and supply chain
We provide trade finance and supply chain solutions that help businesses manage risk, improve liquidity and support a deepening of customer relationships.
Keep in touch with ANZ Insights
Sign up to receive market and economic commentary, giving you fresh ideas and
different perspectives on the industries and topics that matter to you.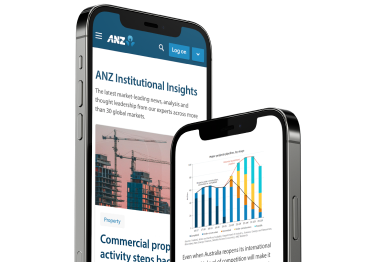 This publication is published by Australia and New Zealand Banking Group Limited ABN 11 005 357 522 ("ANZBGL") in Australia. This publication is intended as thought-leadership material. It is not published with the intention of providing any direct or indirect recommendations relating to any financial product, asset class or trading strategy. The information in this publication is not intended to influence any person to make a decision in relation to a financial product or class of financial products. It is general in nature and does not take account of the circumstances of any individual or class of individuals. Nothing in this publication constitutes a recommendation, solicitation or offer by ANZBGL or its branches or subsidiaries (collectively "ANZ") to you to acquire a product or service, or an offer by ANZ to provide you with other products or services. All information contained in this publication is based on information available at the time of publication. While this publication has been prepared in good faith, no representation, warranty, assurance or undertaking is or will be made, and no responsibility or liability is or will be accepted by ANZ in relation to the accuracy or completeness of this publication or the use of information contained in this publication. ANZ does not provide any financial, investment, legal or taxation advice in connection with this publication.