Our approach and performance
MoneyMinded is financial education program that improves basic budgeting, savings and money management skills. It is delivered by financial counsellors and community partners and helps people to learn to live within their means, increase their savings and assets, manage credit and debt, and plan for the future.
The MoneyMinded Story
MoneyMinded aims to help people build financial skills, knowledge and confidence, and was established to respond to the need for financial skills education among the most vulnerable members of our community.
The program was developed by ANZ in conjunction with the Centre for Learning Innovation at NSW Department of Education and Training and an advisory committee including the Australian Financial Counselling and Credit Reform Association (AFCCRA), the Financial Counsellors Association of NSW (FCAN), the Australian Securities and Investments Commission (ASIC) and community sector representatives.
MoneyMinded reaches groups that are marginalised or financially excluded, and since its inception in 2003, it has reached over 200,000 people, making it the most widely used financial literacy program in Australia (RMIT University 2010). The program has been adapted for Indigenous participants (see MoneyBusiness, delivered in partnership with the Australian Government), migrant groups, people with disability, high school students, prisoners, long-term unemployed and young people at risk. Recently, we have adapted MoneyMinded for projects in New Zealand and the Asia Pacific region under a Group-wide commitment to improving the financial capability of disadvantaged communities.
To date, nearly 6,000 facilitators have been trained to use MoneyMinded.
How MoneyMinded works
We partner with community organisations to provide MoneyMinded facilitator training, enabling financial counsellors and community educators to build skills and confidence to deliver financial education with their clients and to access MoneyMinded resources.
MoneyMinded includes a facilitators' guide, activities, case studies and visual teaching aids, and covers topics such as planning and budgeting, everyday banking, dealing with debt, and superannuation. (For more details, see the MoneyMinded website.)
The program is designed to be flexible so it can be delivered either through group workshops, individual counselling sessions, or online via the MoneyMinded website. Facilitators can select the topics that meet the specific needs of participants.
Our commitment to MoneyMinded includes:
facilitator training for financial counsellors and community educators
partnerships with community organisations to deliver MoneyMinded in their communities
annual reviews of the MoneyMinded content
provision of MoneyMinded program materials.
MoneyMinded does not directly promote ANZ products, and provides unbiased consumer education.
Our Partners
MoneyMinded is made possible by the support and hard work of our community partners, who deliver both the MoneyMinded program and facilitator training. Our partners work with disadvantaged people to ensure MoneyMinded is delivered in a way that is appropriate, accessible, and targeted to those who need it most. All participants in our Saver Plus program also undertake a MoneyMinded course as part of their involvement in the Saver Plus program. Australian partners include:
Our results
2012 results
2012 results
Our MoneyMinded program was developed in Australia in consultation with the community sector, educators and government with the goal of improving people's skills and confidence in managing money. The program has been adapted for use across our Region and is now delivered in 13 countries.
In support of our super regional strategy, we ran new pilots in India, Indonesia, Solomon Islands, Timor Leste, Vietnam, Kiribati, Vanuatu and New Zealand in 2012.
MoneyMinded Asia and Pacific
In 2012, we continued to deliver and expand MoneyMinded, our flagship financial capability program, across the Asia Pacific region.
For example, we delivered MoneyMinded in Indonesia by partnering with Yayasan Cinta Anak Bangsa (YCAB). YCAB is a not-for-profit organisation that provides micro loans to women in underdeveloped areas. By working closely with the organisation, we are able to deliver MoneyMinded training to 150 YCAB clients as part of a pilot project in 2012.
In Timor Leste we facilitated a pilot program to accredit MoneyMinded trainers and are now able to offer the program to communities. We have adapted the program by translating the materials into Bahasa and updating the course to make it appropriate to the Timorese contexts. Topics include budgeting and saving, planning for the future, the role of banks, phone and internet services and how to safely manage credit.
MoneyMinded New Zealand
In 2012, we conducted a MoneyMinded pilot in South Auckland, New Zealand. We partnered with the Solomon Group, a training organisation that provides literacy training to social security beneficiaries and migrants, to deliver the program. Eleven staff from Solomon Group received MoneyMinded Facilitator accreditation and 70 clients completed the pilot program.
The future
More than 200,000 people have participated in MoneyMinded and more than 6,000 facilitators have been trained to deliver the program, but there is still much to be done.
For 2013, we have set a target to reach 40,000 people from lower-income and disadvantaged backgrounds across our region with the MoneyMinded program.
2011 results
2011 results
MoneyMinded Pacific
Following a successful staff pilot last year involving 2000 staff across 11 Pacific countries, we have begun piloting MoneyMinded to communities in four Pacific countries - American Samoa, Fiji, PNG and the Cook Islands.
Each country pilot group has 150 people, representing a cross section of people from the community, including ANZ customers. The pilot program has been very well received.  More than 90% of participants surveyed before and after the program reported an increase in their level of understanding and their financial skills after completing the training. The program will now be expanded further following the appointment of 33 MoneyMinded facilitators and four lead facilitators, who will train community partners and ANZ staff to deliver the program.  
MoneyMinded Hong Kong
We continue to work with the Ngai Tahu community in New Zealand to adapt MoneyMinded for iwi (tribes) culture and experiences.  This follows our support in 2010 of the ANZ Ngai Tahu Financial Knowledge Survey, which established an important benchmark to support efforts to grow financial literacy of all iwi in New Zealand. 
An assessment of the reach of MoneyMinded across our regions shows that in 2011,2,629 facilitators were trained to deliver MoneyMinded and an estimated 32,844 people received MoneyMinded education.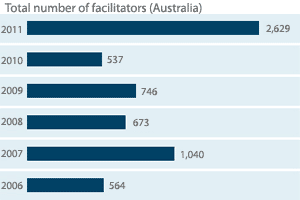 The future
For 2012, we have set a target to reach 30,000 people from lower-income and disadvantaged backgrounds across our region with the MoneyMinded program.
2010 results
2010 results
An assessment of the reach of MoneyMinded in Australia shows that in 2010, 537 facilitators were trained to deliver MoneyMinded and an estimated 31,910 people received MoneyMinded education. We have recently adapted the MoneyMinded materials for use in New Zealand and the Asia Pacific region.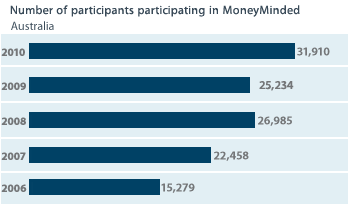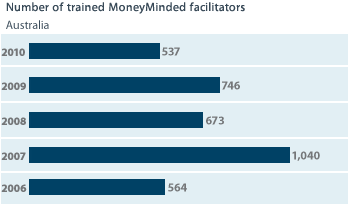 The future
For 2011, we have set a target to reach 30,000 people from lower-income and disadvantaged backgrounds with our MoneyMinded program.
2009 results
2009 results
The total number of participants in Australia and New Zealand was 28,409, just short of our target of 30,000.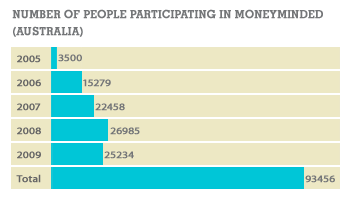 25,234 people participated in the MoneyMinded program in Australia, and 3,175 people in New Zealand.
In addition, 763 facilitators were trained to deliver the program – 746 in Australia and 17 in New Zealand.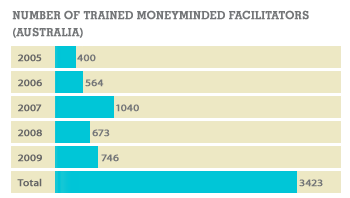 2008 results
2008 results
As part of ANZ's ongoing commitment to measure the effectiveness of our community investments, we've commissioned RMIT University to evaluate the performance of MoneyMinded annually.
The results for the period from October 2007 to September 2008 are encouraging. We set a goal to reach 30,000 people through MoneyMinded in this period: the actual number was 26,985, maintaining our yearly growth in numbers and demonstrating the ongoing demand for, and continued relevance, of the program.
Sharing the stories was developed in 2008 and illustrates the different and innovative ways the MoneyMinded program is being delivered in the community. Some facilitators deliver the program in its original workshop format, while others are tailoring the materials to suit the specific needs of different community groups. MoneyMinded is designed to be a flexible program that can be adapted to suit a wide range of audiences.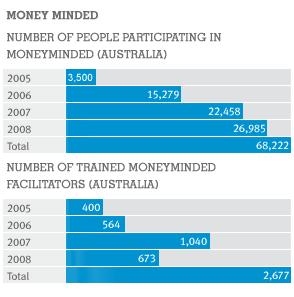 Other achievements during this period include training over 673 additional facilitators, publishing a booklet of stories about the impact of the program on participants, and extending the materials to include two new topics.
Feedback from facilitators and participants is consistently positive. Here are some examples:
"I feel more in control of my money instead of it controlling me."
"I believe MoneyMinded is still the best prevention tool available to help get people to understand and take control of their finances."
"I have noticed some huge personal developments - one of our clients is now attending TAFE, which is an outstanding achievement because before she would not even go to the shops by herself."
In addition, 1,462 people have participated in MoneyMinded in New Zealand with 62 trainers.
The future
We've set an ambitious target to grow even further in 2009 and reach an additional 30,000 people in Australia, and New Zealand.
We constantly seek feedback from facilitators and participants about how the program can be improved, and this has resulted in the addition of two new topics in August 2008: 'A roof over head' and 'Planning for the future'. We will continue to act on the feedback we receive so that the program can keep helping people acquire the financial skills they most need.
Case study: Building a future for young people at risk
One of our partners, Mission Australia, has delivered MoneyMinded to groups of at-risk young people. Facilitators working in the Urban Renewal Landscape and Construction project reported a change in the young people's attitude towards money after completing a MoneyMinded course:
"The young people tended to show a greater awareness and respect for money, and saw it as a means of helping them achieve their goals."
Engaging the young people over a 12-month period, the facilitator was able to keep in touch with them about money over the long term, helping out when financial issues arose and providing financial information in areas such as housing, food, and purchasing goods and services. The program was a valuable addition to the organisation's social enterprise model and to the facilitator's resources. The facilitator says:
"MoneyMinded has given me a useful tool, helping me to provide greater assistance to the young people in the social enterprise program."