ANZ Assured
ANZ Assured is a credit limit of either $500 or $1000 that can be attached to your ANZ Access account. It provides you with the safety net of a credit limit to cover unexpected cash shortfalls, helping you avoid the hassle of declined transactions or bounced cheques. You will only be charged on the amount of credit you access1.

Features and Benefits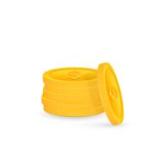 A low monthly fee
Access additional funds when you need it, all for a low fee of about $5 per month2.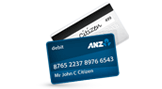 Attach to any eligible ANZ everyday account 
ANZ Assured can be added to one of the following ANZ everyday accounts:
Additional Features
Interest is only charged on the amount of credit used1
Credit facility fee of approximately $5 per month2
No loan approval fee
Simply access funds in the same way as you normally bank, including ATMs4, EFTPOS, cheques, ANZ Phone, Mobile and Internet Banking, or at any ANZ Branch
The credit facility fee is waived on the $1,000 ANZ Assured limit if you hold an eligible linked Home Loan product5.
How to apply

 Apply now
You'll need 10 to 15 minutes to complete this application.
Great tip! You can find your transaction account BSB by logging into Internet Banking

 Call 1800 008 177, Monday to Friday, 8am to 8pm (AEST).

 Visit any branch
Important Information
Terms and conditions are available on application. Fees and charges are payable.
1. The interest rate applicable as at

(View current rates) is

(View current rates) but is variable and may change.
2. This fee is payable monthly. It is calculated by dividing the annual credit facility fee of $60 by 366, then multiplying that figure by the number of days that facility is on effect for that month.
3. Debits will be honored up to your approved credit limit.  If there are no funds available under this credit facility, ANZ may process the debit using the Informal Overdraft facility for your linked account (refer to the terms and conditions of your linked account for more details about the Informal Overdraft facility).
4. Non-ANZ ATM fees apply. 
5. ANZ Standard Variable Rate Home or Residential Investment Loan linked to either an ANZ Access Advantage, ANZ Access Select or ANZ One account, or an ANZ 1 Year Fixed Rate Home or Residential Investment Loan linked to an ANZ One account.