An ANZ International Money Transfer (IMT) is a secure, quick and convenient way to transfer money to an overseas account held with ANZ or another bank.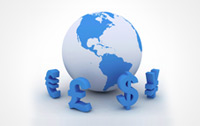 Why choose an ANZ International Money Transfer?
Whether it's a gift to friends or family living abroad, much needed funds for a travelling child or payment for goods or services to an overseas seller, ANZ International Money Transfers offer a safe and easy way to send money overseas.
You can do it through a variety of channels. The funds are simply transferred electronically from your ANZ account to the overseas account, usually within 2 working days.
Moreover, with ANZ you can send the local currency for over 60* countries and major currencies such as US Dollars or Euros to most other countries. And unlike other methods of sending money overseas, an ANZ International Money Transfer is backed by the security of our ANZ Internet Banking Guarantee.
For further assistance, you can contact ANZ's dedicated International Payments Support Centre on 1800 681 683 (free call) or, if outside Australia, on + 61 3 8646 8923 (call costs apply). Contact hours are Weekdays 8am – 7pm (AEST/AEDT).
Any advice does not take into account your personal needs and financial circumstances and you should consider whether it is appropriate for you.
ANZ recommends you read the Terms and conditions and the Financial Services Guide (PDF 76kB) before acquiring the product.
You need Adobe Reader to view PDF files. You can download Adobe Reader free of charge.