An ANZ International draft is a bank cheque drawn in a foreign currency, which can be deposited at an overseas financial institution. It is a simple method of making foreign payments. If you do not know the banking details of the beneficiary, or if you prefer to send an international bank cheque as payment, an ANZ International draft may suit your needs.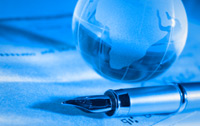 Note: An International draft may only be purchased using an ANZ transaction account or ANZ credit card account.
ANZ International drafts can offer an economical way to send small or large amounts of money overseas. They also provide confidence about the amount the recipient will receive as the recipient receives the full value of the draft. It does, however, take longer for the recipient to receive the funds than if the payment was made by ANZ International Money Transfer.
Multiple currencies available
ANZ International drafts are available in a number of currencies. Where a local currency is not available, the draft can also be drawn in major currencies such as US Dollars or Euros.
How to buy an ANZ International draft
You can purchase an International draft in the following ways:
via ANZ Internet Banking (using an ANZ transaction account or ANZ credit card); and
by visiting an ANZ branch or Foreign Exchange Centre (using an ANZ transaction account or ANZ credit card).
Please note that an ANZ International draft purchased via ANZ Internet Banking will be mailed to the statement mailing address of the account to which the value of the draft was debited.
What fees are involved?
Please refer to the ANZ Personal Banking General Fees and Charges (PDF 116kB) document.
For further assistance, you can contact ANZ's dedicated International Payments Support Centre on 1800 681 683 (free call) or outside Australia on + 61 3 8646 8923 (costs apply).
Terms and conditions available on application. Fees and charges apply.
ANZ recommends you read the Terms and conditions and the Financial Services Guide (PDF 104kB) before acquiring the product.
You need Adobe Reader to view PDF files. You can download Adobe Reader free of charge.