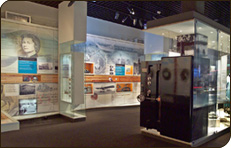 The ANZ Banking Museum is housed in the lower ground floor of the 'Gothic Bank' at 380 Collins Street, Melbourne. It was first opened in May 1985 to commemorate the 15Oth anniversary of the granting of a Royal Charter to the Bank of Australasia, one of ANZ's major forebears.
The museum tells the story of Australia's banking heritage through displays of items such as banknotes and coins, moneyboxes, office machines, firearms, gold-mining equipment and uniforms. In putting together these displays, ANZ's Banking Museum draws upon the rich historical resource of ANZ's archives, an extensive collection of manuscripts, correspondence and photographs covering more than 170 years of banking operations.
ANZ undertook a major refurbishment of its banking museum in 2007. The refurbishment work presented an opportunity to re-think the existing design, incorporate more interactive displays and update content. The new exhibition, entitled "People & Money - Banking in Australia (PDF 35kB)" is designed to have wide appeal to all age groups. The exhibition also complements various community initiatives that ANZ is currently involved in.
The exhibition begins with early Indigenous economy through to 19th century banking, and traces changes in technology with a new section featuring banking in the future. A key theme of financial literacy underpins the exhibition and is illustrated by a unique collection of historic moneyboxes and other banking paraphernalia.
The Banking Museum is open on weekdays (excluding public holidays) from 10am to 3pm. Visitor guides are available for self-guided tours and a museum attendant is available onsite to answer questions. Entry is free.