Performance
ANZ's approach to corporate sustainability focuses on the issues and opportunities most relevant to our business and expertise.
Each year we set goals and establish work programs around priority issues for our industry, our customers, employees and the community. These include providing responsible products and services for our customers, creating a diverse and inclusive workforce and improving financial capability particularly among the most disadvantaged people in our community.
We are committed to responding to issues of relevance to our stakeholders. Read our 2013 Corporate Sustainability Review (PDF 4.17MB). For a full list of 2013 issues and our response please see our 2013 Stakeholder Engagement Table (PDF 268kB).
Global Taxation
In 2013, global taxes borne by ANZ Group amounted to $2.775b (2012: A$2.6b), with corporate income tax being the largest component. Taxes borne represent an immediate cost to ANZ, impacting the profit and loss account.
Of the $2.775b taxes borne by ANZ, 75% (2012: 77%) was attributable to our Australian Operations.
Total taxes borne by ANZ Group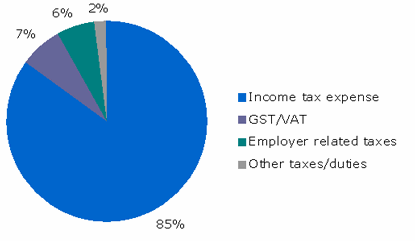 In 2013, ANZ also indirectly remitted $5.196b (2012: $4.355b) in taxes which were collected on behalf of and paid to the governments of the countries where we operate.
ANZ operates under a tax governance framework that guides the way we manage our tax obligations globally. As part of this framework, we have implemented compliance policies, procedures and programs to comply with the tax laws in all the countries where we operate.Tax compliance is a fundamental part of the culture and the business practices of ANZ and its controlled entities.