Hoax messages, also known as scams or phishing, can come in all shapes and sizes. Have you received an email out of the blue asking you to 'confirm' your personal details? Or even a random phone call offering services such as removing viruses from your computer? Fraudsters use different mechanisms or even a combination of mechanisms in order to take your sensitive information and / or money and they target people of all backgrounds, ages and income levels. Many customers have fallen prey to different scams.
Quick rule of thumb: if it sounds too good to be true, it probably is.
What you need to do if you receive a hoax message:
Delete the email or SMS immediately
Please contact the ANZ helpdesk immediately if you have:

Clicked on any links or downloaded any attachments
Responded to the hoax email, SMS or phone call with your banking details
Noticed any unusual payments
ANZ Helpdesk contact details:
ANZ Cards (Credit, Debit or Access):

Call 13 22 73
ANZ Internet Banking:

Call 13 33 50
International:

Call +61 3 9683 9999
Check here for the latest security alerts and quick tips on how to protect yourself.
Latest Security Alerts
Please note: ANZ will never send you an email or SMS asking you to verify or provide Account Details, Financial Details, or login details for ANZ Phone Banking, ANZ Internet Banking, ANZ Mobile Banking or ANZ Apps.
We may send you emails and / or SMSs and these often contain hyperlinks. However, the link will take you to a page on our website, where you can find out more information before logging in, applying or downloading.
Below are some examples of the latest phishing emails and / or SMSs claiming to be from ANZ: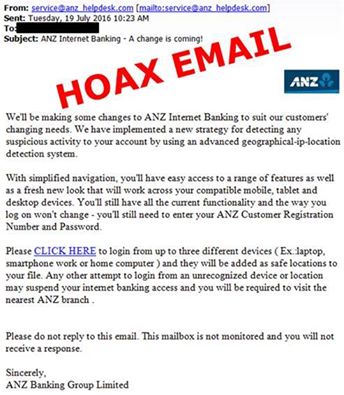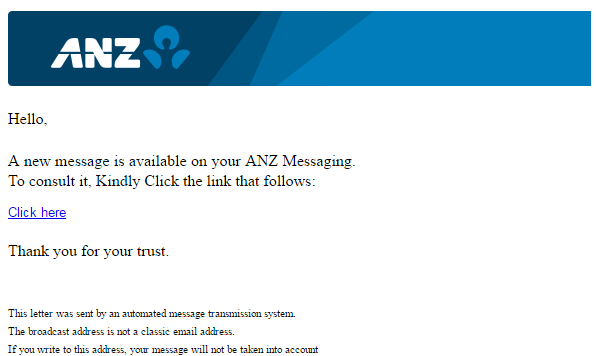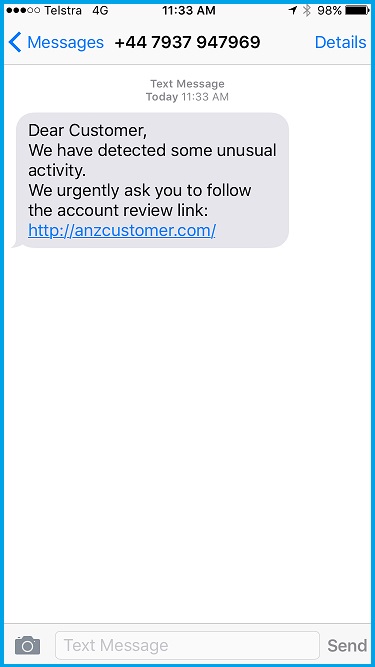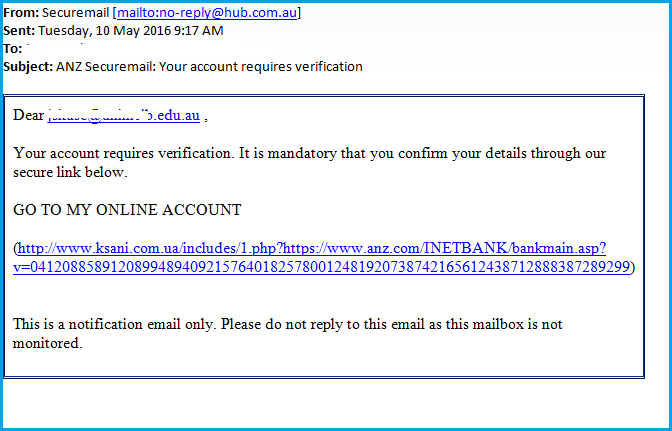 Clicking on links in a suspicious message may result in malicious software being downloaded onto your device, and / or it will lead you to a fake website requesting you to input your banking details.
Quick tips
Here are some simple and quick tips you can follow which will help you protect yourself from scammers:
If it looks too good to be true—it probably is
Go direct – this means typing the web address directly into your browser, navigating to the official app store to download apps, or contacting the relevant organisation directly over the phone
Check your bank account and credit card statements regularly. If you see a transaction you cannot explain on your ANZ account, contact us immediately
Regularly check your computer for viruses and spyware to ensure that your system is not being scanned for personal details without you knowing
If you received something and are in doubt, best to delete it
For more tips, please visit 'Tips for protecting yourself online'.
For more information on the latest scams visit www.scamwatch.com.au.
We encourage you to report all scams by going to the Federal Government Scamwatch website.