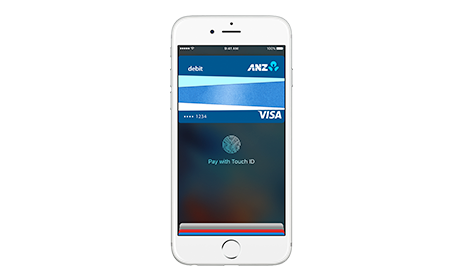 ANZ with Apple Pay lets you tap and pay when you're out and about. You can even make purchases in-app or on the web with Safari where Apple Pay is accepted.
Simple
Pay with your iPhone using Touch ID or your passcode, and get the same benefits and rewards of your current cards1.
Secure
When you use Apple Pay, your card number is never shared with the merchant or saved on your device.
Load your card to Apple Pay on your iPhone
Open the Wallet app on your compatible iPhone.
Tap the + sign in the top right corner.
Use your iPhone's camera to scan your card, or manually enter your card details.
Enter your card security code, then read and accept the ANZ Apple Pay Terms and Conditions.
For security purposes we may ask you to call us or send you a verification code via SMS.
For more on how to set up your iPhone or Apple Watch with Apple Pay, see detailed steps.
Not with ANZ?
Apply for an eligible ANZ card.
Find out more about ANZ with Apple Pay.
1. Apple Pay supports many ANZ credit and debit cards. Find out more about the full list of supported ANZ cards.
Apple, Apple Pay, Apple Watch, iPhone and Touch ID are trademarks of Apple Inc., registered in the US and other countries.