Grow by ANZ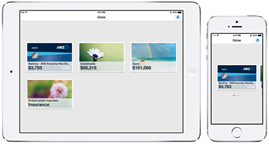 ANZ goMoney™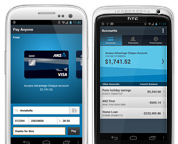 Two great apps: ANZ goMoney™ to manage your money on-the-go and Grow by ANZ, the app that brings together banking, super and share investments.
Grow by ANZ
Imagine being able to connect and grow your wealth, all in one place.
Now you can, with the app that brings together your banking, share investments and super, putting your wealth at your fingertips and accessed with one 4-digit PIN. Experience a simpler way to grow.  Grow by ANZ available on your iPad or iPhone.
ANZ goMoney™
The ANZ goMoney™ app1 is a secure and convenient way to bank using your smart phone or tablet 24/7. It's available for Android & iPhone, and it's light on your mobile data plan.
Its user friendly interface makes it easier than ever to check your account balances, transfer funds and make payments. All from your back pocket.
You can:
View account balances and transaction history.
Moving money from A to B is made simple.

Instantly transfer funds, make loan and credit card payments between most of your ANZ linked accounts.

Pay anyone with a BSB and account number, or even with just a mobile number2.

Pay to any bank account using Pay Anyone (limit $1000 per day).

Pay your bills with BPAY®.

Up to $10,000 per transaction or a total of $15,000 per day.

Find an ANZ ATM near you3.
Security for your peace of mind:
4-digit authorisation code: Select your own PIN.
SSL encryption technology: so your details can't be read or changed online.
ANZ Internet Banking Guarantee4: You'll be reimbursed for any unauthorised transactions as long as you have complied with the Electronic Banking Conditions of use.


™ ANZ goMoney is a trademark of ANZ
® Registered to BPAY Pty Ltd ABN 69 079 137 518
Investments, Super and Insurance are not provided by ANZ, but by entities which are not banks. ANZ does not guarantee them. ANZ Smart Choice Super and Pension is provided by OnePath Custodians. You should read the ANZ Smart Choice Super and Pension PDS and Grow by ANZ terms and conditions available on anz.com and consider if these products are right for you. Temporary service disruptions may occur. Grow by ANZ and ANZ's colour blue are trademarks of ANZ.

ANZ goMoney™ for Android™ is only available in Google Play™. ANZ goMoney™ for iPhone is only available from the App Store. Apple, the Apple logo, iPhone and iPad are trademarks of Apple Inc., registered in the U.S. and other countries. App Store is a service mark of Apple Inc. Android and Google Play are trademarks of Google Inc.