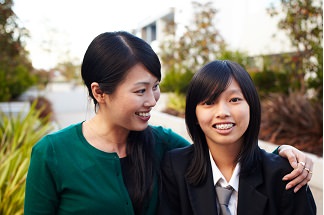 Continued support to build savings habits
More low income Australians will build a long-term savings habit with the Australian Government and ANZ providing new support to the Saver Plus program.
A five year commitment  of $29.4 million from the Australian Government, together with a $17.5 million commitment from ANZ, will help us reach our target of assisting a further 16,000 Australians, through the  matched savings and financial education program, Saver Plus.
Saver Plus was jointly developed by ANZ and the Brotherhood of St Laurence and has seen:
more than 26,000 people participating in the program save $15 million
ANZ provide $10 million in matched funding towards education costs
87% of participants saving the same amount or more up to three years after completing the program.
Rachel, who completed the program with the support of community partner Berry Street, has managed to transform her savings habits. She said: "This program has had a massive impact on my family and personal life. The year I did the savings program I was on a single parent disability pension. I saved for the program, a holiday to Tasmania and paid off bills along the way".
© Australia and New Zealand Banking Group Limited (ANZ) 2015 ABN 11 005 357 522.