Our Approach
ANZ is committed to both minimising the amount of waste generated as well as reusing and recycling as much waste as possible. Recycling leads to savings in energy, water, carbon emissions and landfill space.
One of ANZ's key waste reduction initiatives is to reduce the amount of paper used internally, as well as that which is distributed to customers.
Find out more about how we are reducing our use of paper.
ANZ recycles a range of materials generated directly from our business activities and also at our commercial properties. This includes recycling every day kitchen items like aluminum cans and bottles as well as paper and electronic waste. 
Where possible ANZ utilises local solutions for recycling. For example laptops from our New Zealand operations are reused within New Zealand schools.
To monitor ANZ's performance in waste management we have set targets to reduce the quantity of waste sent to landfill. This acts as a leading indicator of how well we are reducing, reusing and recycling waste materials.
Case study: Our Move
A 'Reduce, Recycle and Redistribute' (RRR) Campaign played a key part in the relocation of over 8,500 staff to ANZ's new global headquarters in Melbourne's Docklands. The campaign aimed to 'reduce' filing and storage needs, 'recycle' un-used paper files and other recyclables, and 'redistribute' excess IT, office equipment and files for archiving.
Clean-up weeks were held before any move. In summary, 400 cubic meters were removed from various ANZ sites, 7% ended-up in landfill (less than 30 cubic meters), 36% was recycled (just over 140 cubic meters), and 57% was redistributed internally or to charity or archives (about 225 cubic meters).
The 400 cubic meters comprised: 78 tonnes of paper securely destroyed and recycled; 78 cages of miscellaneous items recycled; 52 cages of furniture and office equipment, including 6 pallets of IT hardware collected for internal redistribution; 43 cages of stationery, books, toys, and other items set aside for charity. The RRR Campaign resulted in only 29 cages of non-recyclable items ending-up in landfill.
A similar process will be adopted when ANZ move into our new headquarters in Sydney.
Our results
2012 results
2012 results
ANZ environmental targets for reducing waste to landfill:
| Country | 2014 Target (against 2011 performance) | 2012 Performance |
| --- | --- | --- |
| Australia | -10% | -4% |
| New Zealand | -10% | -19% |
ANZ's Austrlia operations achieved a 4% reduction in the quantity of waste sent to landfill from Australian-based facilities compared to 2011. Measurement of general waste occurs through bi-annual waste audits at key commercial sites which accounts for more than 50 per cent of our Australian-based staff.  Further reductions in the generation of general waste are expected to occur in 2013 through the roll-out of a new waste management system, the removal of under desk bins, and improved staff communication and education regarding the separation of general waste and recyclables.
ANZ's New Zealand operations achieved an impressive 19% reduction in waste to landfill in 2012 relative to 2011. This is due to a significant move from paper based transactions and filing to on-line transactions and central storage of information. Recycling programs in branches and offices have also contributed to reduction in waste to landfill.
2011 results
2011 results
Australia
In 2011, ANZ achieved a 4% reduction in the average waste generated per staff member per day due to systemic changes (e.g. removing desk side bins), improved recycling processes and the continuing 'change-of-habit' benefit derived from the relocation to the ANZ Centre in Melbourne. These changes have led to ANZ achieving an 18% improvement in the percentage of waste recycled when compared to the 2009 baseline. Recycling as a percentage of total waste has increased from 62% to 74% during this time period.
New Zealand
In 2011 New Zealand introduced co-mingled recycling services (for plastic bottles/cans/glass bottles) into retail branches. The project has increased the volume of co-mingled recycling by 13%. A survey conducted in 2011 concluded that the percentage of total waste recycled was 71%, a 37% increase compared to a similar survey done in 2009.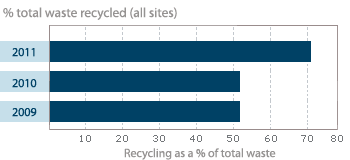 2010 results
2010 results
Australia
In 2010, there was a 10% increase in the amount of waste recycled due to both a reduction in general waste levels, systemic changes (e.g. removing desk side bins), improved recycling processes and the effect of moving into our new headquarters.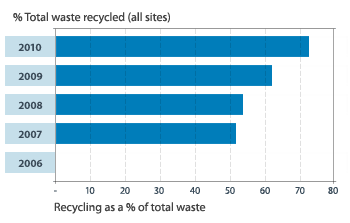 New Zealand
Recycling rate has remained steady. Recycling is to be implemented for retail locations at the end of 2010. The extension of services, in conjunction with improved measurement of waste management will provide a more accurate measurement moving forward.
The future
ANZ will continue to review the performance at major sites and will be adopting revised processes in all major commercial buildings across Victoria.
ANZ Centre, our largest site, remains of continued focus and will drive future performance given the size of the building. ANZ will be reviewing the need to collect better quality information about the landfill waste generated in our retail branches as part of our carbon reduction focus.
2009 results
2009 results
In Australia, average daily waste per FTE measured at 10 key sites in 2009 was reduced by 15%. Over the last two years average daily waste was reduced by 11% meeting and slightly better than our two year target of a 10% reduction.
Total waste recycled in Australia increased by 221 tonnes, or 15%, while in New Zealand recycling increased by 397 tonnes, or 39% following a broader collection of paper recycling data and the introduction of paper and other waste recycling into corporate locations.
During the construction of ANZ Centre's fit out, Lend Lease, the building contractor, recycled 60% of all waste produced.
Progress chart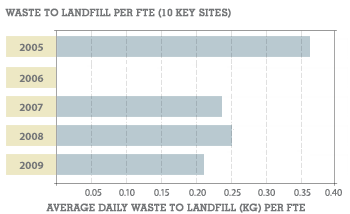 Note: Waste data was not collected for 2006
The future
Further work is required to reduce the volume of waste going to landfill and to maximise the use of recycling wherever possible.
We have adapted our approach for the coming year given the move to ANZ Centre where we will be capturing data from 100% of staff.  Whilst we will still be capturing total waste to landfill, our new waste management procedures at ANZ Centre, which focus on recycling (glass, metal, organic, paper) has meant that our focus should change as well.  We are aiming to increase our percentage of total waste recycled by 10% over the next two years.
2008 results
2008 results
In Australia, ANZ has seen an increase of 5% per FTE in waste sent to landfill from our 10 key sites. This is in spite of an overall increase in recycling across the portfolio of sites. ANZ has recently established an Eco Team at one of our key sites specifically charged with reducing waste to landfill.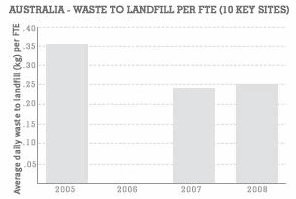 In New Zealand the focus has been on introducing better recycling facilities including paper, glass, plastics and cans. Total recycling for this financial year is up by 420 tonnes including 34 tonnes of mixed recycling.
The future
We will continue to work towards a target of 10% reduction in waste sent to landfill across the current two-year period, in both Australia and New Zealand.
Further work is required to reduce the volume of waste going to landfill and to maximise the use of recycling wherever possible.
A key component of future strategy is the development of efficient waste management processes for our new workplace, home to 6,500 staff.