Our approach
We monitor energy performance across ANZ in over 30 countries through measuring and reporting consumption via our on-line Energy Management System (EMS). Through our global EMS framework, countries identify and implement new saving initiatives as part of an overall performance improvement strategy focused on meeting both our energy reduction targets and business needs.
ANZ's use of electricity generates around ~75% of our total greenhouse gas emissions (~316kt CO2-e). Therefore, reducing our energy consumption not only benefits the environment it also delivers business cost savings.  
ANZ aims to minimise the use of resources in its operations through the efficient consumption of energy within its buildings, including offices, branches, business centres and data centres. To ensure that we are meeting this energy reduction goal ANZ has adopted a framework of:
reviewing energy consumption within its operations;
developing a plan of how we can reduce energy consumption;
funding and implementing opportunities; and
monitoring the outcomes of projects.
Our results
2012 results
2012 results
In 2012, approximately eighty percent of ANZ's energy consumption from electricity came from our Australian and New Zealand operations, the remainder from our Asian operations. ANZ's energy-management strategy is focused on:
reducing energy use in our major commercial buildings and across our branch network;
introducing initiatives and processes to encourage energy savings in the use of technology and at our data centres; and
ensuring environmental sustainability is a core consideration of all new ANZ properties (including leased properties) and refurbishments of existing buildings.
Central to this strategy is access to high quality data that facilitates improved understanding of the way energy is used in our buildings and to achieve continuous improvement in managing our energy use.
Figure 1: ANZ Electricity Consumption by Facility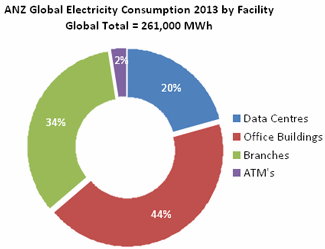 Following the implementation of ANZ's on-line environmental reporting system to over 30 countries in 2012, ANZ will be establishing a premises energy reduction target for all of it operations for the first time in 2013.
ANZ's environmental targets for reducing premises energy consumption
| Country | 2014 Target (against 2011 performance) | 2012 Performance |
| --- | --- | --- |
| Australia | -12% | +1% |
| New Zealand | -5% | -4% |
Initiatives to reduce energy consumption across ANZ's buildings:
In 2012, ANZ Australia based operations reduced electricity use by 4 per cent across our network of branches and commercial properties situated in every state and territory of Australia. These reductions were offset by increases in electricity usage at our data centres as a result of business growth. In addition, whilst the operation of the tri-generation plant at our Head Office has helped ANZ reduce emissions by around 2,500 tonnes of CO2-e in 2012, this has resulted in an associated increase in gas consumption.
New Zealand exceeded its premises energy reduction target this year through the implementation of multiple energy saving projects across the building portfolio. Energy reduction projects included upgrades to air conditioning systems in retail branches, fine-tuning operational systems in commercial facilities and minimising energy usage in data centres by utilising free cooling and retiring redundant equipment.
Cambodia through its first year of implementation of the on-line Environmental Reporting System, identified opportunities that could reduce energy usage by up to 10%, which included reducing energy usage from lighting and air conditioning in commercial offices and the branch network.
2011 results
2011 results
Australia
Premises energy consumption per FTE in Australia decreased 8% between 2009 and 2011 exceeding our 6% target. This was largely due to an excellent result in commercial building energy use which decreased by 12% through a combination of the move to ANZ Centre in Melbourne, (from more energy intensive buildings), alongside a A$4m capital investment program enabling operational improvements at other sites. Energy efficiency works have been focused on improvements to thermal metering, Building Control Management Systems, plant rooms and shut-off dampers, as well as the review of air-conditioning start-up and shut-down times.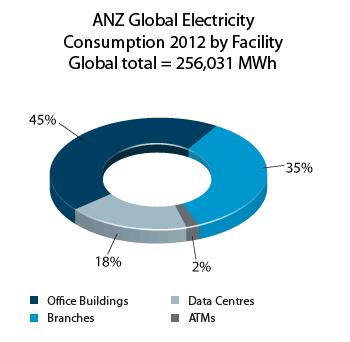 New Zealand
Premises energy consumption per FTE in New Zealand decreased 4% between 2009 and 2011 exceeding the 2.5% target. A combination of factors was responsible for this result including improved energy management at data centres, reduced office space in Wellington, and energy efficiency gains across both the commercial and retail property portfolios.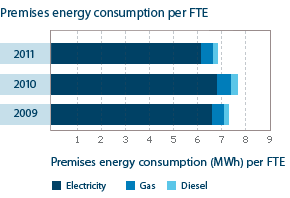 2010 results
2010 results
Australia
Premises energy consumption per FTE has increased +3% primarily due to the overlap between our exit from previous Melbourne tenancies and the move to the ANZ Centre, alongside growth in energy consumption at the Data Centres. An Energy Efficiency program is currently underway in ANZ's commercial and retail properties which will involve both capital and operational expenditure investment.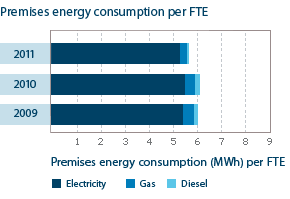 New Zealand
Electricity consumed per FTE has increased 3% on 2009 levels due to opening of and transition to our new data centre. This growth was anticipated and planned initiatives during 2011 will reduce premises energy intensity.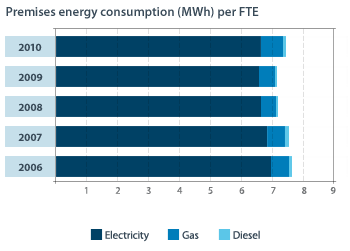 The future
Future initiatives include:
Australia:
The prioritisation of the 2010-2011 Energy Efficiency OPEX and CAPEX works program to focus on those projects that will produce the greatest energy savings.
Investigations into ways to reduce the technology energy load within ANZ premises.
Further work to isolate, reduce or relocate the requirement for after hours air-conditioning at commercial and retail sites.
New Zealand:
The movement of further technology equipment to the new data centre and increasing capacity at this site.
The focus on energy savings from using smart relay (meter) technology in the New Zealand branches.
2009 results
2009 results
ANZ has achieved four years of consecutive energy reductions per FTE in Australia. This includes achieving our two year environmental footprint target to reduce electricity consumption by 5% in Australia.
Our Australian operations achieved a 2% reduction per FTE for electricity in 2009, and a 6% reduction over two years, exceeding our two year target of a 5% reduction.
Australia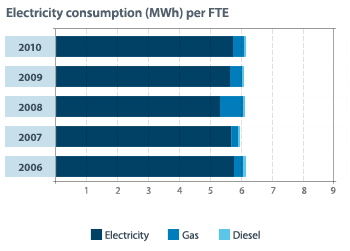 In New Zealand, while our absolute electricity consumption decreased by 3% in 2009, consumption per FTE increased by 3%.
New Zealand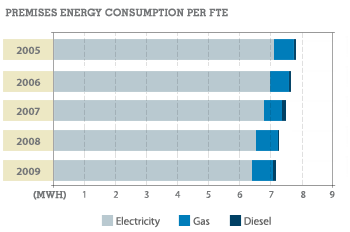 Over the two years to September 2009 electricity consumption per FTE at our New Zealand operations decreased by 1%.
Electricity consumed in India decreased by 6% in India. 
The future
ANZ has set a target to reduce premises energy per FTE by 6% in Australia and 2.5% in New Zealand by September 2011.
We are using a premises energy rather than an electricity consumption target to allow for the fact that a large proportion of energy consumed at our new Melbourne headquarters will be sourced from an onsite tri-generation plant which will convert gas to electricity.
Initiatives towards our target will include:
the generation and use of renewable energy at our new headquarters in Melbourne, ANZ Centre, utilising 1,000 square metres of solar cells and roof mounted wind turbines
more efficient air conditioning processes through the use of cool water from the Yarra River, reducing the demand on the cooling towers
smart technology to reduce power consumption, such as 'wave to print' technology, which prints requests only when the sender is there to retrieve it
motion sensor power in meeting rooms, automatic power saving modes on all telephones, and shared multi-function energy efficient equipment to reduce the number of powered devices in use
smart meters in an additional 18 branches across Australia (bringing the total number of branches with meters to 36) selected for a broad range of layouts, size and age. Findings from the data captured by these meters will be factored into designs for all new branches and the maintenance and refurbishment of our existing branches
detailed monitoring and analysis of building operating hours and usage, leading to site-specific remediation to better align lighting and air conditioning operating hours to actual demand
awareness campaigns for all staff to highlight the energy efficiency features of our new headquarters and by promoting energy-efficient behaviour
reducing the number of servers operating in our data centres to make them more energy-efficient. 'Virtual' online servers will, where possible, replace physical servers to reduce demand on data centre power and reduce cooling consumption and carbon emissions.
2008 results
2008 results
ANZ has achieved three years of consecutive energy reductions per FTE in Australia and New Zealand. In 2008 we have achieved a further reduction of 4% per FTE for electricity. This makes ANZ Australia well placed to meet the target of a 5% reduction target by the end of September 2009.
Our New Zealand operations also decreased their consumption by 3% per FTE over the past year. This has played an integral part in meeting the overall target to reduce greenhouse gas emissions for the period ending 2008.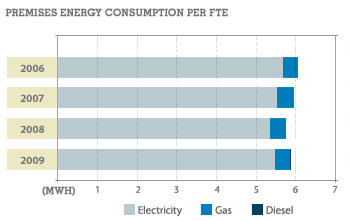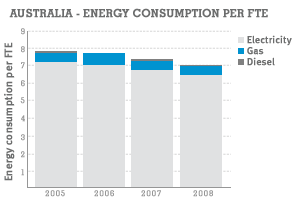 The future
ANZ will continue to aim for a 5% reduction in electricity consumption over the current two-year period in both Australia and New Zealand. In Australia the focus will be on developing new initiatives based on the smart meter information available in the branches and the commercial sites. In New Zealand, we are introducing the PC Snoozer initiative - an energy saving mode which 'powers down' PCs when they are not in use and over weekends.
Examples of how we are reducing electricity consumption
Constructing more sustainable and energy efficient offices
ANZ Centre, our headquarters at 833 Collins Street in Melbourne's Docklands precinct is home to more than 6,500 staff. It has been widely recognised as one of the world's most environmentally innovative workplaces in the financial sector. ANZ Centre is designed to produce 70 per cent less greenhouse gas emissions than a standard commercial office building and will generate some of its own electricity through the use of an on-site tri-generation plant, PV (solar) cells and small-scale wind turbines.
The 83,796 square metre office achieved 6 Star Green Star – Office Interiors v1.1 certification in July 2012, making it the largest single-tenanted 6 Star Green Star rated fitout in the country, and only the second building in Australia to have achieved the 6 Star Green Star certification 'trifecta' of 'Design', 'As-Built' and 'Interiors' ratings.
We are applying similar environmental requirements in our approach to identifying suitable commercial offices as ANZ grows across the region. In Singapore, we have recently moved into a new office building which has been granted Singapore's highest environmental rating – 'Green Mark' Platinum and are seeking a 'Green Mark' Gold rating for our tenancy space.
In Brisbane, we moved into a new targeted '6 Star Green Star' design rated office building in early 2012. It is estimated that moving into this new, more efficient Brisbane office will reduce our Australian greenhouse gas emissions by around 500 tonnes CO2-e annually.
In Sydney, we are scheduled to move into a new development in mid-2013. The property has been awarded a '6 Star Green Star' office design rating. This new building will include environmentally sustainable design features and significantly improved workspaces that draw on the learnings and successes of the ANZ Centre in Docklands.
EEO Verification
In 2012, ANZ prepared and submitted its final report under the first five-year cycle (2006-2011) of the Energy Efficiency Opportunities Act (EEO). During the first EEO cycle, ANZ improved its assessment of energy efficiency opportunities across its commercial portfolio. We also increased understanding of what types of energy efficiency projects would meet the corporation's cost-effective criteria for implementation.
The 2012 ANZ's EEO Report references ANZ's total energy use and progress made in undertaking energy assessments to identify energy efficiency opportunities. ANZ's 2012 EEO Public Report details a number of significant energy saving opportunities. For a copy of this report please go to 2012 Fifth Public Report (PDF 216kB).
ANZ identifies energy efficiency opportunities through a series of annual building assessments (energy audits of commercial, data centre and retail properties). Energy saving opportunities that have been identified through the EEO process includes the retrofitting of lights in our branches and upgrades to air conditioning equipment in commercial buildings. The number of opportunities and the total potential energy savings are reported and categorised by the time it takes to achieve 'payback' from implementing these initiatives.
During 2012, ANZ has focused on identifying quick-win, lower-cost energy efficiency opportunities that would not only deliver the greatest energy savings, but would also reap commercial benefits. These energy efficiency assessments have been focused on the identification of opportunities at ANZ's major energy consuming assets that include large commercial property sites and data centres. Regular energy monitoring and sub-metering at large sites, such as the ANZ Centre, has facilitated a better understanding of the way energy is being used and consequently the identification of cost-effective energy efficiency opportunities. Further opportunities have been identified through specific asset maintenance plans.
ANZ will continue to identify new energy saving opportunities, as per its EEO second cycle assessment plan and to evaluate these opportunities for implementation across ANZ's commercial properties, branch network and data centres in Australia.