Our approach
We develop our employees for success in their role; for an enduring sense of service to our customers; and for skills that will enhance their ability, including leadership skills, to relate to others inside and outside the work environment.
Our human capital development strategy ensures we attract, nurture and retain the very best people, creating an environment where they can perform effectively and contribute to our super regional strategy.
Learning and development opportunities
Our learning and development opportunities include:
on-the-job experiences
peer coaching
coaching and development discussions with managers
secondment and project opportunities
formal learning, including online and face-to-face.
We examine individual learning needs and consider options to achieve a balance between the needs of the learner, the time frames in which skills are needed, the geographic spread of our people, and the depth of skill transfer or change management.
Each year there are a number of key initiatives we seek to develop and implement to meet the learning needs of our people. These fall into four key areas:
Learning for leadership and talent: helping leaders develop leadership skills, and to inspire and motivate others.
Core banking skills: developing technical skills needed to meet customers' needs.
Organisational culture and values: the values underpinning our interactions, the culture we seek to grow, and the benefits of diversity.
Learning infrastructure: ensuring that we have systems in place so that the right learning reaches the right people at the right time, for the right cost.
We work with a wide range of partners to ensure the learning we offer is international in scope, incorporates leading-edge thinking about learning and its effective transfer, and is made available to staff wherever they are located.
ANZ Competency Framework
The ANZ competency framework supports ANZ's core values and helps clarify for our staff what it means to be effective in their roles and support our super regional strategy.
The eight competencies are grouped into three clusters – Insight, Engagement and Action – focusing on our customers at the centre.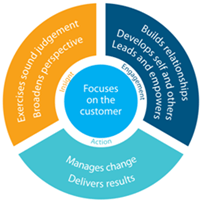 Generalist Bankers Program
The Generalist Bankers Program provides employees with an opportunity to develop their career as a senior generalist banker. Participants are placed on a two-year rotational program across multiple banking disciplines and in seven cities across the Asia Pacific. Generalist bankers are provided with a senior mentor, an executive sponsor and access to Management Board members. They participate in technical training (both e-learning and facilitated) as well as a series of development forums to ensure they are building their leadership skills.
Development through education
Our approach to developing our people recognises the role of higher education in contributing to an individual's growth and since 1993, we have been partnering with universities and educational facilities to enable employees access to tertiary and postgraduate studies.
In previous years, we have launched partnerships with Columbia University and the London Business School to provide senior executive leadership programs. More recently, we commenced a partnership with Duke Corporate Education (the not-for-profit corporate support of Duke University) to design and deliver our in-house, top-level executive education programs.
We also provide consortium programs for employees through the Australian Graduate School of Management.
Please see our Corporate Responsibility reports for previous years' results.