Realize your dreams, enjoy your living
You have different spending plans in different life stages and want to ensure a wealthy and peace of mind future. However, there are unexpected things in life could affect to your plans.
Let's start saving now with My Life in order to make your dream come true. It's never too soon to start saving. A small amount of money steadily accumulated with discipline will become a much larger amount which will help a lot for your needs in the future.
Reasons why you choose My Life
1. Short period of premium payment (only 12 years) but you will be covered till the age of 99 with the protection much higher than the fee you have paid.

2. Periodic income including cash coupons and dividends every 3 years for the rest of your life, which will help you with your expense needs.
3. Medi-cash benefits until the age of 75 with large sum with no cap, calculated as a percentage of the sum assured you choose (Option A).
Product information
My Life has 2 versions: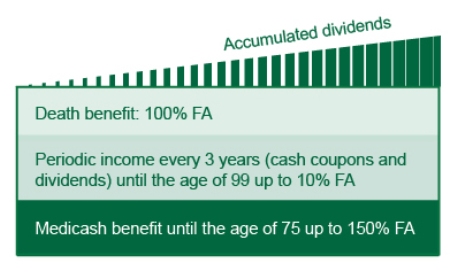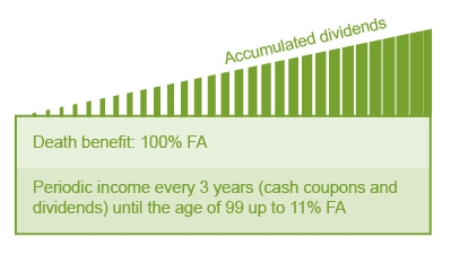 Notes: Periodic income is paid starting from the end of 6th year of the contract
Example:
Female, 22 year old, enrols My Life with Sum Assured of VND 100 mil, premium term of 12 year with policy term up to age 99. Annual premium of VND 6,3 mil (equal to 17.000 VND/ day). Customer will have the following benefits:
| Benefits | Amount |
| --- | --- |
| Saving fund at age 45 (Policy is still inforce, customer has never been withdrawing Cash coupon and Dividend) | 134,6 mil VND |
| Periodic income every 3 year from the end of year 6th | About 10 mil VND/payment |
| Hospitalization benefit | 200.000 VND/day (Total benefit maximum 150 mil VND) |
| Death guaranteed benefit | 100 mil VND |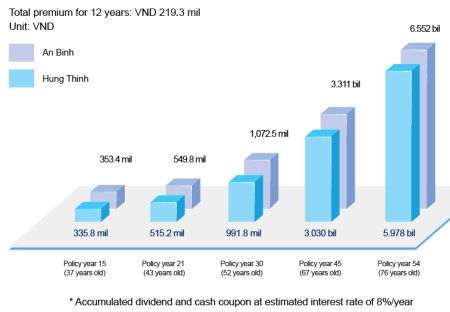 Do you want to explore more?

For further information about these products, please contact us at 1900 1276 or arrive at your nearest ANZ's branches.
My Life is designed by Manulife Vietnam Co. Ltd. - 75 Hoang Van Thai St., Dist.7 and is exclusively distributed by ANZ Bank (Vietnam) Limited.