As a customer you may be seen as a potential target for fraudulent activities. However by arming yourself with information and tools you can protect yourself from becoming a fraud victim.
Do you know the four biggest fraud threats you face?
Email scams and fake websites

A number of Internet users have received emails claiming to be from financial institutions or other legitimate organisations.
Some emails inform the recipient that their security details and passwords need to be updated by logging into an authentic looking, but fake website. The purpose of these websites is to obtain your log on details such as your Personal Identification Number (PIN), User ID, and password to your Internet bank accounts.
Others may communicate security messages or attachments for you to download. If the email is from an unknown source, or if you are suspicious of the nature of the email, delete it immediately. Do no open any attachments or install any programs provided.
To ensure you are always viewing and transacting on a legitimate ANZ site, always access ANZ Internet Banking by typing the "anz.com" into the address bar. Never access Internet Banking by clicking on links provided in an email.
If you have any concerns, contact the ANZ Internet Banking Support Centre in your country.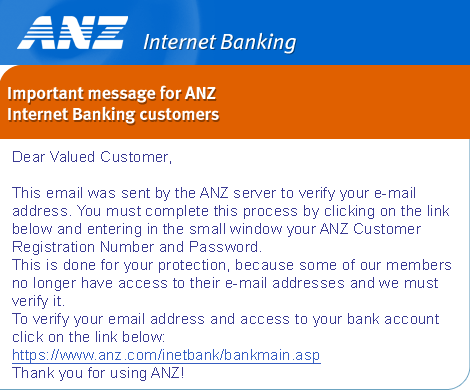 This is an example only; the content and look of the emails change.
Job Scams

ANZ warns our customers and members of the public to be wary of various job scams advertised via the Internet.
Bogus overseas companies have been targeting unwitting victims to act as 'money transfer agents' in the sale of goods and services via methods such as job advertisements, unsolicited emails and online chat rooms.
'Employees' are asked to use their own bank accounts to transfer money overseas.   In most cases, victims are instructed to send these funds abroad, and are promised a percentage of the transfer as commission.
The job advertisement websites look very professional and convincing. Please note some job advertisements contain trojan horses that allow the job advertiser to access the person's computer and collect their personal details, including bank account details. Exercise extreme caution if you receive an email from any person or company asking for your personal and banking details.
Finally, if it sounds too good to be true it probably is.
Identity theft is where a dishonest individual or syndicate will gather your personal details in order to gain financial or other benefit, often leaving the owner of that identity in large debt, a negative credit history, and in some cases with legal implications.
Your information can be obtained in many ways:
theft, including theft of mail from your mailbox at home
by going through your garbage bins
telephone calls where thieves use deception to obtain your details
Internet.
The following can be used to assume your identity:
date of birth
utilities bills (phone, gas, water and rates notices)
address.
How you can help protect your identity:
report any loss or theft of documents such as driver licence, credit card or passport immediately
keep tax records and other financial documents in a secure place
cancel all unused or dormant accounts that you may have
secure your mailbox with a padlock where possible.
There are several ways that fraud can occur on your credit card or debit card account.
"Skimming" is a technique where information stored on your card's magnetic strip is stolen when your card is swiped during a sales transaction. Thieves are then able to reproduce fake cards using your stolen details. Once completed, fake replicated cards can be used to make purchases with your credit line.
Dishonest merchants can not only "skim" your card, but can also process unauthorised duplicate transactions using your card details.
Cards can also be lost or stolen by a third party during transit to your house. To protect you from this, you will receive your ANZ Card and PIN separately. Only one will be posted to you, and the other will be available for collection at your local branch.
Credit or debit card fraud can also occur when your card is lost or stolen and used by a third party to purchase goods or to withdraw cash from the card. It is important that you report any lost or stolen cards to ANZ immediately so that you can be issued with a new card number.
Protect your credit / debit card
Memorise your personal identification number (PIN). Don't use the same PIN for all your cards, and don't choose your birth date or other easily identifiable number that you might carry with you.
Check statements and call your credit card issuer immediately if you see anything suspicious on your bill.
Do not let your credit card out of your sight at anytime.
Card fraud can happen anywhere in the world; be vigilant when travelling overseas.
Always sign your card in ink as soon as you receive it.
Keep track of when new and reissued cards should arrive, and call the credit card issuer if they don't come on time.
Make sure your mailbox is secure, and that only you and the postal carrier have access to it.
Shred all credit card receipts and pre-approved credit card offers into small pieces before you throw them away. Keep your billing statements in a safe place.
When you use your credit card online, make sure you are using a secure website. Look for a small key or padlock symbol at the bottom right of your browser's window.
Never give your card number to strangers or telemarketers who call you on the phone. Don't give your card number unless you initiated the call.
Definitions
Cheque fraud is the use of a cheque to obtain financial advantage by:
altering the cheque (payee/amount) without appropriate authority
theft of legitimate cheques and subsequent alteration or conversion
duplication or counterfeiting of cheques
the use of false invoices to solicit legitimate cheques
depositing a cheque into a third party account without authority
depositing a cheque for payment knowing that insufficient funds are in the account to cover the deposited cheque.
Cheque fraud can be conducted by internal and external parties to your accounts.
How to protect yourself from cheque fraud
Reconcile your account
You are required to reconcile your accounts promptly and regularly. For business accounts, ensure independent overview by the appropriate level of management.
For business accounts, separate the cheque writing/electronic payments and account reconciliation functions.
If you hold business accounts, consider opening a separate account specifically for higher value cheques, so they can be easily monitored.
Ensure that any damaged, old, or altered cheques are destroyed.
Signing of cheques
Never sign blank cheques, only sign cheques after all details have been completed.
Limit the number of signatures to your account to ensure control.
Regularly review the account authorities.
Consider implementing a 'two to sign' policy.
Ensure that your signature is not affixed to documents that can be accessed by the general public.
Preparation
Keep all cheques secured when not in use to deter theft.
Cheques must be completed in a way that deters fraudulent alteration.
Ensure that a strong, bold and consistent font is used.
Leave no gaps in the completion of the payee name, amount in words and in figures.
Avoid use of acronyms for payee names.
Use only permanent ink (preferably black).
Ordering and maintaining cheques
If cheques are lost or stolen, contact ANZ immediately and ask them to load a 'Stop Payment'.
Notify ANZ if you have not received an ordered cheque book.
Payments
Ensure that any invoices are valid before payment.
Mark all invoices as paid payment is made.
Consider using electronic means of payment (if possible) for high value payments.
Protection of cheques
Avoid sending high value cheques in the mail.
Avoid sending cheques in window fronted envelopes.
Ensure that your mailbox is secure to protect your incoming cheques.
Avoid providing your banking details to external parties.
What to do if you suspect that you are a victim of cheque fraud
If you suspect that you are a victim of cheque fraud or any other type of fraud, or if you detect an irregularity in your account reconciliation, you must contact ANZ immediately.
Product Disclosure Statements & Terms and Conditions
It is important that you are aware of your rights and responsibilities with respect to your accounts. Further information can be found in the relevant Product Disclosure Statement or Terms and Conditions.