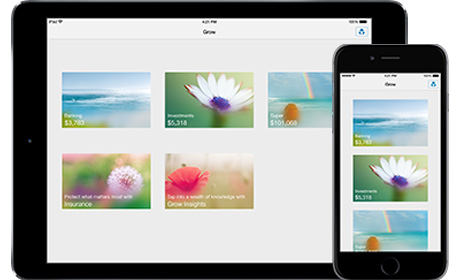 Banking and more on your iPad or iPhone
Imagine being able to connect and grow your wealth, all in one place
Now you can, with the app that brings together your banking, share investments and super, putting your wealth at your fingertips and accessed with one 4-digit PIN.
Experience a simpler way to grow. Available on your iPad or iPhone.
Banking
Grow by ANZ brings you key features you've come to love from ANZ goMoney™, redesigned for the iPad and iPhone.
Check balances and transfer money between your ANZ accounts, on the go. Pay bills, Pay Anyone, and personalise your bank accounts, your way.
Increase your payment limits with Voice ID.
You can now make Pay Anyone payments over $1,000 and BPAY® payments over $10,000 conveniently and securely using Voice ID.
No extra passwords or codes to remember, just say the phrase 'my voice confirms my identity'.
Voice ID uses voice biometrics to confirm your identity based on hundreds of unique characteristics.
Get started with shares
Buy, sell and watch shares on the go, with an intuitive mobile platform for investing.
Browse Market Place for investment ideas, including independent recommendations from leading research group Morningstar. Then buy or sell shares in just a few taps.
Keep your super close
Super is about investing in your future, today. Getting it right could make all the difference. Now you can track your super alongside your banking.
In just a few taps, you could open an award-winning ANZ Smart Choice Super account – no forms or paperwork required.
Grow can help track down and bring together your other super accounts.
Help protect the things that matter to you
Whether you want to protect your home and contents, or your family's lifestyle, you can find the right insurance at ANZ.
Plus, you'll enjoy the convenience of having your banking, insurance, and other investments all in the one place.
We are already working to expand Grow by ANZ to enable you to view and manage your insurances.
Disclaimer: Investments, Super and Insurance are not provided by ANZ, but by entities which are not banks. ANZ does not guarantee them. ANZ Smart Choice Super and Pension is provided by OnePath Custodians. You should read the ANZ Smart Choice Super and Pension PDS and Grow by ANZ terms and conditions available on anz.com and consider if these products are right for you. Temporary service disruptions may occur. Grow by ANZ and ANZ's colour blue are trademarks of ANZ.
Apple, the Apple logo, iPhone and iPad are trademarks of Apple Inc., registered in the U.S. and other countries. App Store is a service mark of Apple Inc.