eDine is a web-based dining and leisure benefits program that offers over 2,500 valuable savings at over 1,500 cafes, bistros and restaurants, plus over 1,000 hotels and attractions around Australia and New Zealand.
As an eDine member, you can keep up to date with the latest savings and offers by joining the eDine email newsletter at no additional cost.
See the eDine difference
See how much you could save in a year
Find out how much you could save with our eDine Savings calculator:
use the take your pick of purchases by clicking on an icon once or multiple times
calculate how much you could save with an eDine membership by clicking on "Show savings".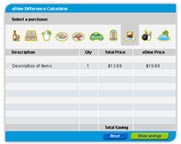 The icons are not actual purchases but they do represent real savings that could be yours. The eDine price shows what you could pay after your membership discount.
Find fun with your eDine membership.
Apply for eDine
eDine membership is available to all ANZ credit cardholders for a fee of $35 a year (inclusive of GST), charged to your ANZ credit card account. To apply or simply find out more about eDine, call ANZ on 1300 131 026.
Your eDine membership card and Terms and Conditions brochure should arrive within 10 business days of your request to join the program.
For more information, please refer to eDine Terms and Conditions (PDF 280kB).
eDine is brought to you by Entertainment Publications of Australia Pty Ltd.
® eDine is a registered trademark of Australia and New Zealand Banking Group Limited
You need Adobe Reader to view PDF files. You can download Adobe Reader free of charge.