Visa Checkout - a secure way to conveniently pay online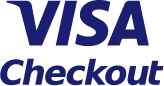 Visa Checkout is a free digital payment service which securely stores your ANZ credit and Visa debit cards and shipping details online.
Faster online shopping experience
Speed through the online checkout wherever Visa Checkout is accepted - whether you're shopping on your computer, tablet or smart phone. Simply click the Visa Checkout button and sign in with your email address and password. Confirm your payment preferences, click pay and you're done.
Flexible
Add one card or multiple cards, debit or credit cards - it's up to you. And, you can use Visa, MasterCard or American Express.
Advanced security
Rest assured, your payment information is stored behind multiple layers of security including industry standard encryption and multi-layer authentication.