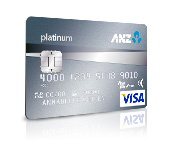 You could experience an enhanced range of benefits by upgrading your ANZ First Visa to ANZ Platinum1
Annual Fee Waiver2 – your Annual Account Fee (Annual Fee) will be waived for the first year. That's an annual saving of $87.
Overseas travel and medical insurance3 – to provide you with peace of mind overseas, ANZ Platinum offers you Overseas travel and medical insurance at no extra cost for up to 6 months overseas.
Flexible payment options4 – repay your travel related purchases in a way that suits you with a choice of flexible payment options at a discounted rate of interest.
Up to 55 Days Interest fee days credit on purchases5 - Enjoy up to 11 additional interest-free days on purchases compared to the ANZ First Visa.
Apply to upgrade your ANZ First Visa to ANZ Platinum now
It's easy
To apply for this Platinum upgrade offer, simply;

Call us on 13 22 73, Monday to Friday 8am to 10pm AEST, Saturday 8am to 6pm AEST
All applications are subject to ANZ's credit assessment criteria
1. To be eligible for this Platinum Upgrade offer, your approved credit limit on your ANZ First Visa must currently be $6,000 or more and there must be no outstanding payments due on your account. When you upgrade to ANZ Platinum your existing account is closed and you will be issued with a new account and account number. Your existing account will be closed within 14 days of approving your upgrade or when you activate your new ANZ Platinum whichever comes first. Therefore it is important that you stop any payments that are automatically deducted from your current account redirect them to your new ANZ Platinum account. The current standard annual percentage interest rates applicable to ANZ Platinum are 19.24% p.a. on purchases and standard balance transfers, and 20.99% p.a. on cash advances as at Saturday, 1 February 2011. ANZ Platinum annual percentage rate is subject to change.
2. The ANZ Platinum Annual Account Fee ("Annual Fee") of $87 will be waived in the first year. In each subsequent year, if you make Eligible Purchases of $20,000 or more annually using your ANZ Platinum account your next Annual Fee will be waived. Eligible Purchases must be made in the year prior to your next Fee Date. Your Fee Date is the date that your account is assessed for charging an Annual Fee. If your account has not previously been charged an Annual Fee then for the purpose of determining your eligibility for the waiver, your Fee Date is the first date that your account is assessed for charging an Annual Fee. Eligible Purchases includes purchases made using your account, but excludes Balance Transfers, cash advances, interest, fees, transactions reversed and purchase refunds. If you do not make at least $20,000 of Eligible Purchases in the year prior to your Fee Date the Annual Fee will be charged to your account. 
3. Overseas travel and medical insurance Master Policy is underwritten by QBE Insurance (Australia) Limited, ABN 78 003 191 035, AFSL No. 239545. Terms, conditions, eligibility criteria, limits and exclusions apply. To activate cover under the overseas travel and medical insurance Master Policy, you must meet the eligibility criteria: you must be a permanent resident of Australia, have debited at least $250 worth of eligible overseas travel arrangements to your Platinum card account prior to departing Australia, have a current Platinum card account at the date of any claimable event, have a return ticket to Australia and be 80 years of age or under. Please refer to the ANZ Platinum Cards Insurance booklet (PDF 484kB) - Part 1 QBE Product Disclosure Statement and policy wordings for more information and to decide whether or not this product is right for you. While overseas, we recommend that you carry proof of your overseas travel arrangements purchased on your Platinum Credit Card.
4. Flexible payment options are available for domestic or overseas purchase transactions of $500 AUD or more made using your ANZ Platinum account at an Eligible Merchant ("Qualifying Transaction"). An Eligible Merchant is any travel agent, online travel booking sites, airline or hotel, or any merchant ANZ advises as being an Eligible Merchant for the purposes of determining whether flexible payment offers are available. For more information visit the ANZ Platinum Benefits website.
5. Interest free periods on the purchases do not apply if you do not pay your Closing Balance (or, if applicable, your 'Closing Balance' less Instalment Plan and Buy Now Pay later plan balances) shown on each statement of account in full by the applicable due date. Payments to your account are applied in the order set out in the ANZ Credit Cards Conditions of Use.
You need Adobe Reader to view PDF files. You can download Adobe Reader free of charge.