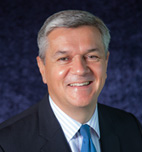 Mark Baker
Managing Director Papua New Guinea
Mark Baker is the Managing Director of ANZ in Papua New Guinea.
He is a highly experienced international banker having previously held senior roles with HSBC in Saudi Arabia, Hong Kong, India and Bahrain.
Prior to taking up his current role with ANZ PNG in August 2012, Mark had overall responsibility for ANZ's Corporate Banking activities in Queensland, covering private and public companies, with a particular focus on services to the Natural Resources sector.
Mark brings with him a deep experience across a wide range of banking activities including Corporate and Institutional Banking, Commercial and SME, and Retail Banking, as well as key product lines including International Trade Services, Payments and Cash Management and Operations.