Invapay Automated Payments
UK based payments FinTech Invapay have developed an automated payables solution for customers, solving a number of common procurement challenges such as, extending day's payables outstanding, reducing procurement costs and policy adherence.
Using an ANZ Virtual Card, an Invapay transaction occurs when a buyer submits a payment instruction file to Invapay, who then charge the buyers' ANZ Virtual Card for the approved amount and distribute funds directly into supplier's bank account via Electronic Funds Transfer. The buyer is then sent an enhanced data invoice, while the supplier receives a purchase order and invoice data for reconciliation.
A buyer will lodge their ANZ Virtual Card's 16 digit number within the Invapay platform. When an invoice is authorised by the buyer, Invapay will charge the buyer's ANZ Virtual Card for the invoice amount. This allows customers to leverage off balance sheet credit extending working capital and providing a number of other benefits such as enhanced data, process automation and spend controls delivered by the ANZ Virtual Card.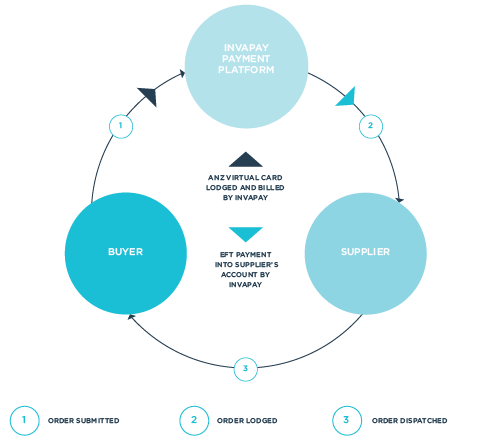 Working capital
Improve cash flow management
Extend days payables outstanding
Leverage off balance sheet credit
Efficiency
Automate reconciliation
Streamline payment processes
Create a paper-less environment
Cost savings
Reduce cost of goods through early payment discounts
Lower banking costs
Governance
Purchasing policy adherence
Payment control
Visibility
Enhanced data provides spend insights
Working capital
Reduce days sales outstanding
Accelerate account receivables
Alternative funding source
Efficiency
Automate remittance generation
Streamline reconciliation
Paid directly into bank account
Cost savings
Reduce manual processing costs
Lower cost of funds
Eliminate merchant facility costs
Risk mitigation
Control over payment terms
Lower doubtful debt
Visibility
Payment data improve cash allocation