BPAY® is a national bill payment service, jointly developed by Australia's leading financial institutions. BPAY enables consumers to pay their bills with just one contact with their own bank, credit union or building society where it is registered with the BPAY Scheme. Consumers make payments via their nominated financial institution's phone or Internet banking service.
ANZ offers BPAY with a number of features that are designed to meet the needs of our customers who are high volume or special requirement billers. The ANZ special features include electronic delivery of remittance details, streamlined reporting and daily bulked credits.
BPAY can also be used by billers who receive payments of a recurring nature, typically customers who issue 100 or more invoices per week and accept credit card payments.
Features
Same day cleared funds
BPAY provides billers with same day cleared funds (provided the payments are made before the nominated cut-off times). This can reduce dishonours and delays and accelerate cash flows.
Low cost electronic channels
BPAY uses lower cost electronic channels and offers biller's customers the ability to make immediate payments from their chosen financial institution enabling a reduction in collection costs.
Streamlined reconciliation and reporting
ANZ offers a number of digital channels including host to host that support the automatic receipt of BPAY payment information, helping to reduce administrative costs. Our digital channels streamline the reconciliation and reporting of credit card and debit transaction data from payments made at all financial institutions participating in BPAY, as well as consolidating BPAY data with other ANZ bill payments services.
Comprehensive security and support
Comprehensive security and support including data integrity by checking digit/validation for customer reference numbers. Registration and enquiry support for billers and their customers is also available.
Accurate data entry
A digit appended to the end of your Customer Reference Number validates the accuracy of data entry by applying a mathematical formula to the remaining digits entered by your customer. The use of a Check Digit is necessary to maintain a high degree of data integrity, ANZ can assist you to select a suitable Check Digit routine for your business.
Is BPAY right for me?
If you can answer 'yes' to all of the following questions, then BPAY may be for you.
Does your business receive more than 100 payments per month from regular customers?
Are most of your customers consumers or small businesses?
Can you change your invoices to include the following:

a BPAY logo
your ANZ allocated BPAY Biller Code
your unique Customer Reference Number (including a check digit) to identify the payer
BPAY payment instructions.
To find out more about BPAY services or to take the first steps to joining many of Australia's largest billing organisations and many hundreds of others that already enjoy the benefits of BPAY, then please enquire online.
How BPAY® works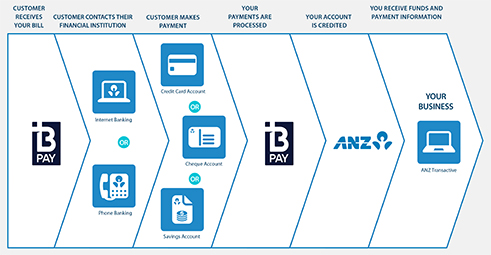 ® Registered to BPAY Pty Ltd ABN 69 079 137 518