Program Overview
Each year the ANZ Generalist Bankers Program offers around 10 participants the opportunity to develop a career as an international banker. Our objective is to develop a strong internal pipeline of future senior leaders and Country CEOs by offering a unique, structured approach to developing leaders who have a breadth of perspective and expertise across a range of banking disciplines, cultures and geographies.
ANZ is on a journey to become a super regional bank, providing products and services of a global standard across the Asia Pacific region, including Australia and New Zealand. To achieve this, we need people with different skills and mindsets and a passion to outperform.
We believe in the inherent strength of a vibrant, diverse and inclusive workforce where the backgrounds, perspectives and life experiences of our people help us to innovate, forge strong connections with our customers, and make better decisions for our business.
The ANZ Generalist Bankers Program develops bankers who will pioneer new ways of operating that will transform, shape and provide the high standard of financial solutions and insights our global customers demand, supporting them wherever they do business.
Program Structure
Indicative Generalist Banker Career Path
Note: this is an indicative career path and will differ for each person based on their prior experiences and performance.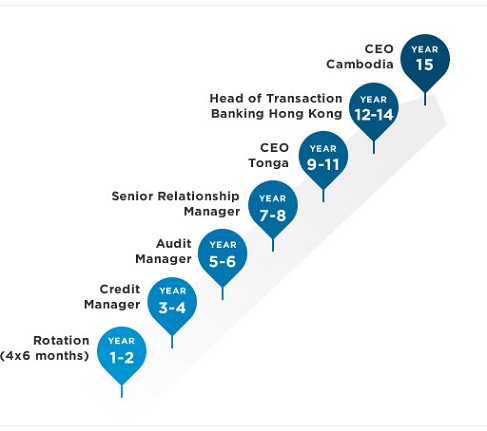 Generalist Bankers begin with a two-year rotational program, which includes four six-month rotations across the following business areas:
Institutional Banking
Risk
Operations
Commercial or Retail Banking
Through these rotations, Generalist Bankers can expect to build the foundations of their banking experience through broad exposure to different product and customer-facing areas. Generalist Bankers will be assigned a mentor for the first two years on the Program, and will also have unparalleled access to senior leaders as well as professional and personal development opportunities.
The rotational program currently operates out of Melbourne, Auckland, Hong Kong and Singapore. Successful candidates will join the program in one of these locations, unless alternative arrangements are agreed. Candidates will be asked to nominate two location preferences when applying for the Program, and best efforts will be made to place them in one of these locations for the first two years. Rotations will predominantly take place in the country the Generalist Banker commences the program from, but may include the opportunity to undertake an offshore rotation.
After the two year rotational program, subject to performance, Generalist Bankers, will be placed in roles that ensure their capability for senior leadership is continually developed. These roles will be between 18 to 36 months in duration depending on the business segment and location of the role placement. Role length can be expected to increase as the Generalist Banker's career progresses. These roles can be based in any of the 34 countries that ANZ currently operates in, and participants are expected to remain globally mobile throughout the duration of the program, which will run for a maximum of 15 years.