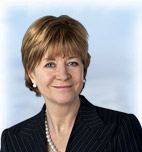 Chief Information Officer 
Australia and New Zealand Banking Group Limited
ANZ Centre
833 Collins Street
Docklands VIC 3008
Australia
Anne joined ANZ in 2010 and is accountable for Group Technology and also Information Security for the bank. This includes bank wide responsibility for the provision of infrastructure and software development services and the control and provision of Information and IT security.
The role also includes responsibility for defining and executing the bank's technology strategy, Towards 2017. This strategy is the technology roadmap to enable ANZ's broader business strategy to grow from an Australian and New Zealand base, to become a super regional bank for Asia Pacific by 2017. This is a whole of bank strategy encompassing consumer, wealth, commercial and institutional with a focus on building increased customer centricity from enterprise platforms.
Prior to joining ANZ Anne worked in senior IT roles in a number of major financial organisations, specialising in leading large scale business and technology transformation platforms.
Last updated: February 2014.
Key dates
2010
Appointed Group Chief Information Officer
2006 
Group Chief Information Officer, Bank of Ireland
2004
IT Director, Abbey/Santander
2002
Director of UK Business Integration, Gaz de France
1998
Director of Business Strategy, Development and IT, Student Loans Company
1996
Head of European Convergence/Head of Strategy and Architecture Europe, National Australia Group
1993
Project Director IT Transformation/Head of Development - Operation Division, Royal Bank of Scotland