B Ec (Hons), FAICD, FTSE, FAIM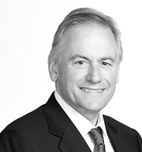 Independent Non-Executive Director 
Non-Executive Director since July 2013. Mr Liebelt is a member of the Risk Committee, Human Resources Committee and Technology Committee.
Skills, experience and expertise 
Mr Liebelt has extensive international experience and a strong record of achievement as a senior executive including in strategy development and implementation. He brings to the Board his experience of a 23 year executive career with Orica Limited (including a period as Chief Executive Officer), a global mining services company with operations in more than 50 countries.
 
Current Directorships 
Chairman: Amcor Limited (from 2013, Director from 2012).
Deputy Chairman: The Global Foundation (from 2013, Director from 2006) and Melbourne Business School (from 2012, Director from 2008).
 
Director: Australian Foundation Investment Company Limited (from 2012) and Carey Baptist Grammar School (from 2012). 
Former Directorships include
Former Chief Executive Officer and Managing Director: Orica Limited (2005–2012).
Former Director: Business Council of Australia (2010-2012).
 
Age: 60. Residence: Melbourne.