ANZ understands that to fully enjoy the privileges you deserve, you require a service that is exclusively dedicated to you.
ANZ is glad to announce the launch of our new Signature Priority Banking Concierge Service – a privilege especially tailored to answer all your requests from daily needs to the most luxurious ones, anytime and anywhere.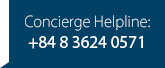 As a one-stop service for your premium lifestyle, our committed teams of professional concierges are available 24/7 to make your experiences even better across the globe:

Travel Assistance: Want a business class ticket booked for Florence? We will assure you the best experience from the booking to your arrival.

VIP Airport Services: Would you like a Limousine transfer from the airport? Enjoy special assistance and comfort in-between flights.

Dining Services: Celebrating your anniversary? Allow our concierge service to book a Michelin restaurant with a fantastic view for you.

Golfing Services: Hit an ace on foreign golf courses with our team arranging golfing sessions.

Shopping & Business Services: Whether you want tulips from Holland or need a translator? We shall have it covered for you.

Art & Culture Services: Want a VIP experience at Art Basel? You can now immerse in the exclusive art and cultural events worldwide with our assistance.

Medical Assistance: Receive instant medical assistance no matter you are on a business trip or a vacation.
To learn more, contact our ANZ Signature Priority Banking Concierge Helpline:(08) 38 240 571.