An ANZ Personal Loan up to VND 500 mil is a fast and convenient way to achieve your lifestyle needs and desires. Whether you are planning to celebrate your dream wedding, renovate your house, buy a new motorbike, a well deserved holiday, or study abroad, an ANZ Personal Loan can make it happen.
Fulfill all your wishes this Tet with an ANZ Personal Loan
Enjoy a special rate of 1.38% for a great start to your new year1.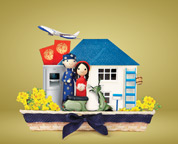 Apply between 01 Nov, 2013 and 30 Jan, 2014 to enjoy various special benefits, such as:
1% discount off the standard rate for the first 100 approved applicants.
Additional 1% discount to the standard rate when also applying for a pre-approved ANZ Credit Card.
Additional discount of up to 1.5% in the first year for referring friends.

Text TG to 8069 to register for the promotion.
To refer your friend, please text ANZTET< Referee's names> <phone of referee> send to 8069
Your reference of monthly payment for this promotion2
Loan amount
(Million VND)
12 months
24 months
36 months
48 months
60 months
50
4.680.000
2.594.000
1.884.000
1.548.000
1.297.000
100
9.359.000
5.188.000
3.768.000
3.097.000
2.594.000
120
11.116.000
6.107.000
4.399.000
3.588.000
3.047.000
150
13.895.000
7.634.000
5.498.000
4.485.000
3.809.000
200
18.527.000
10.179.000
7.331.000
5.980.000
5.079.000
Contact us now

Visit your nearest ANZ branch
 

Call 1800 1559
 
Or leave your contact we will call to assist further.
Why ANZ Personal loan?
Loan up to VND500,000,000
Flexible loan tenors of up to 60 months
Convenient payment through automatic debit
Fast turnaround time for loan disbursement from 2-3 days
Competitive interest rate, easy application process
No property pledge or company guarantee required
Flexible top-up personal loan
Complimentary Credit Card with 1st year annual fee waive*.
* Note: Cashback for 1st year annual fee is posted into credit card account if min 3 transactions are made at min VND300,000/time in 1 month since card issuance.
Who are qualified for ANZ Personal loans?
Vietnamese living in HCMC, Binh Duong or Hanoi, age of 21 and above
Minimum income from VND8mil via bank statement, OR Own an unsecured credit card from other banks
Employment with current company for 6 months or accumulated 1 year working experience.


Additional 0.5% discount when applying "Pre-approved ANZ Credit Card for Personal Loan customer".
Fees
Charges
Transaction Processing Fee*
VND 600,000
Late payment fee
2% of overdue amount or a minimum of VND150,000 + 150% of prevailing interest rate on overdue amount from the due date
Early repayment fee
5% of outstanding balance for the first 3 years or 2% of outstanding balance for discharge from the 4th year onward (minimum VND1,500,000)
Top-up processing fee*
VND600,000

* Note: fee waive for ANZ Executive Privilege and ANZ Payroll customers.
Estimated Personal Loan monthly installment**
Loan amount
(Million VND)
12 months
24 months
36 months
48 months
60 months
25
2,364,000
1,322,000
968,000
801,000
676,000
50
4,728,000
2,644,000
1,935,000
1,603,000
1,353,000
100
9,456,000
5,287,000
3,871,000
3,205,000
2,705,000
120
11,231,000
6,225,000
4,521,000
3,716,000
3,179,000
150
14,039,000
7,782,000
5,651,000
4,645,000
3,974,000
200
18,719,000
10,376,000
7,535,000
6,193,000
5,299,000
** The calculation is estimated for illustrative purposes only; it does not constitute an actual approval of the loan amount or instalment amount. The estimated monthly instalment is rounded up to thousand dong.
Common questions about ANZ Personal loan
Q When and how will I know the status of my loan application?
A It normally takes about 3 or 4 days for loan amount to be available in your ANZ account (if approved) after Bank receive your completed application and required documents. There will be confirmation letter sent to you via email for all the loan details. If you have any inquiries, you may call the sales person.
Q If I want to get back all document I submitted to the Bank, how can I do it?
A All documents submitted to the Bank (copies only) are rightfully owned by ANZ and will not be returned but kept for records.
Q How can I get the money if approved? Will the Bank transfer money to my other Bank's account?
A The funds will be disbursed into the ANZ account and not to another account
Q What are the re-payment channels?
A Monthly re-payment will be made through auto-debit from account at ANZ.
Q Can I cancel the loan after loan disbursement?
A Yes, you can request cancellation of the Loan by sending a written request to the Bank. Any amount prepaid or cancelled must be made in full plus any accrued interest or fees in Vietnamese Dong on the proposed prepayment date. An early repayment or cancellation fee shall be charged at the rate of 5.00% (applied for the first 3 years) or 2.00% (applied from the 4th year onwards) of the remaining amount or VND1,500,000, whichever is higher.
Q Can I make partial repayment?
A No, any early repayment must be made in full and loan will be cancelled/closed.
Q Can I do early payment at any branch? Do I need to inform bank before coming?
A You can go to any branch or contact branches ROs/RMs to close the PL account before maturity. You will be advised the total payable amount and sign off the Personal Loan Customer Request Form. You may call the sales person before coming to branch.
Q: If I want to request  for a standard service after getting the loan such as: confirm current PL outstanding balance, change the Repayment Date, re-issue DD letter, What should I do? What's the required document?
A: You should inform the sales person, or call the hotline number 1800 1559, or visit the branch and fill in the Personal Loan Customer Request Form.
You need Adobe Reader to view PDF files. You can download Adobe Reader free of charge.