ANZ Vietnam would like to wish you and your company a happy new year with great success and business growth.
2014 is forecasted to be optimistic for business; the signals of the economic recovery still remain strong. Thus, in hope to bring you a fruitful start for this great year of the Horse, ANZ Vietnam is honored to introduce our promotion campaign, "Celebrate 2014 with a prosperous start", for ANZ's trade and cash management services.
Receive many shopping vouchers with value at VND 500,000(*) simply by making eligible trade transactions or increasing your current VND Account's average balance from 15 January 2014 to 15 April 2014.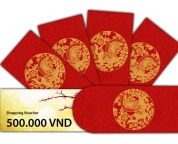 Our Relationship Manager will soon contact you to introduce and further answer your queries related to this exciting promotion.
Thank you for banking with ANZ Vietnam and we look forward to continuing to provide you with suitable banking solutions and exceptional services in 2014.
Sincerely.

 1800 58 58 38
 

 anz.com/vietnam/en/commercial/
You need Adobe Reader to view PDF files. You can download Adobe Reader free of charge.