Enjoy your dreams
Life is full of surprises and exciting opportunities. Everyone dreams for their family to have a better life. And being free from from financial worries enables us to enjoy our life in freedom and happiness.
Let us support you to solve your financial worries and to achieve your goals with a unique product, My World*:
High savings: Your own saving fund is guaranteed from 125% - 130% of sum assured. The total amount of money you will receive is even more as you can earn dividends paid by the company every year as well as extra accumulated interests on dividends and cash coupons if these are not withdrawn until contract maturity
Your financial plan is guaranteed once you sign the policy, with death benefit of 150% of sum assured, and payment rates will be doubled in case of death due to an unfortunate accident
Comprehensive protection with benefit of Medicash upon overnight hospitalization. Total benefit is up to 150 million dong (depending on choice of options) and cancer benefit which is immediately paid out with amount up to 100% of sum assured.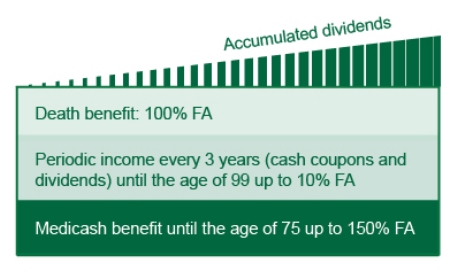 Other benefits:
This product is suitable for all members of your family with applying age from 0-60 or 0-55 years old (depending on choice of plans)
Flexibility in choosing 10 year or 15 year payment term and free coverage in 5 more years
Additional benefits for your whole family by paying a small premium for extra options.
| Products | Benefits |
| --- | --- |
| Accidental dismemberment, TPD | Benefit can be up to 4 times the face amount of the basic policy |
| Term rider | Benefit can be up to 5 times the face amount of the basic policy |
| Medicash | Providing medicash benefit in case the insured has to stay in hospital |
| Waiver of premium or special waiver of premium | Policy owners get waiver of premium benefits in the event of total and continuous disability due to disease or bodily injury, or death |
Example: You are a 30-year-old male customer who buys My World with sum assured of 300 million dong for 10 years.
Annual investment amount: about 28.3 million dong
Investing in 10 years, protection for 15 years
Maximum of total insurance benefit: 900 million dong
Total return on investment of maturity benefit is up to 472 million dong.
Do you want to explore more?
For further information about these products, please kindly contact us at 1800 1559 (toll free) or arrive at your nearest ANZ's branches.