Strong financial foundation for prosperous future
Everyone has their own dreams and plans in life. At ANZ, we understand how those dreams are important to you and bring you My Beloved Family – a flexible financial and comprehensive protection plan that helps you and your beloved ones fulfill dreams and plan in every stage of life.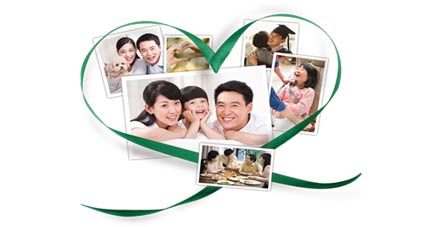 REASONS WHY YOU SHOULD CHOOSE – MY BELOVED FAMILY
My Beloved Family, a comprehensive financial solution that helps you in fulfilling variety of needs and financial goals for you and family.
Comprehensive protection
Peace of mind with a death protection benefit which can go as high as up to 150 times of your basic premium, up to the age of 99
At an affordable cost, you can include riders (*) to enhance your protection coverage against critical illnesses, disability, accident or hospitalization
Option to increase your coverage during key life events without undergoing another medical check.
Flexible financial plan
Flexibility to pay your premiums depending on your financial conditions
Flexibility to choose and adjust Sum Assured based on your evolving protection needs
Flexibility to make partial or full withdrawals from your account value to meet urgent or intermittent needs
Flexibility to generate additional savings by paying one-time top-up premium to increase your Account Value and thus generate higher returns.
Attractive investment returns
Attractive investment returns based on the performance of the universal life fund
Guaranteed minimum rate of returns to provide a floor against adverse market conditions
Optimal charge structure together with attractive and periodic loyalty bonuses to enhance your savings and reward your persistency.
ADDITIONAL BENEFIT OPTIONS
For a minimal additional premium, you can enjoy additional peace of mind through a number of different riders which provide supplementary insurance protection coverage for a variety of risks:
Additional Benefit Options

| Riders (*) | Benefits |
| --- | --- |
| Critical Illness | Provides financial protection benefit against 10 early-stage critical illnesses; 45 late-stage critical illnesses and gender-specific critical illness up to a total benefit amount equal to as much as 125% of chosen Sum Assured of this rider. |
| Waiver of Charge / Payor Waiver | If insured (or payor, if different from insured) is diagnosed with any one of 45 critical illnesses, the monthly charges of the base plan and any attached additional benefits of the insured person of the base plan will be waived. |
| Accidental Death and Disability | Provides benefit against dismemberment or death caused by an accident from 100% to 300% of this benefit's Sum Assured of this rider, depending on the circumstances surrounding the accident. |
| Total and Permanent Disability | Provides an additional benefit against total and permanent disability equal to 100% of this benefit's chosen Sum Assured of this rider. |
| 2014 Medical Cash | Provides you daily hospital income for each day of confinement in a covered hospital and double daily hospital income for confinement in an Intensive Care Unit. |
(*) Please refer to the Provisions of those Additional Benefit Options for more details of insurance benefits.
All product-related information on this website are for reference only. For exact terms and conditions that govern all benefits, rights and obligations, please refer to the policy contract.
Do you want to know more?

For further information about these products, please contact us at 1900 1276 or visit your nearest ANZ's branch.