Together we live a happy and healthy life
It is boundless happiness to live healthy together with our spouse for all of our life. You wish to be completely peace of mind by protecting yourself and/or your spouse against critical illness?
Is there any insurance product that:
Protects us through all our lives against the risk of illness with just a short-term premium payment?
Provides us with a health fund provision during policy term up to the age of 75?
Helps us save for our retirement?.
Gift of Love brings you and your spouse a peace of mind to fully enjoy the life.
Reasons why you should choose Gift of Love
First insurance product in the market that cover 31 major diseases until you reach the age of 85 with only 15-year premium payment period.
Medi-cash for each and every nigh you stay in the hospital which equivalent to 0.2% of the sum assured you choose during the policy term up to the age of 75.
A guaranteed savings amount equivalent to 150% the sum assured accumulated dividends and interest upon policy maturity, which will help you to achieve a peaceful retirement.
Be insured with outstanding benefits of Gift of Love
Protects you better when the medical expenses are rapidly growing: Extra 50% of Sum Sssured from year 11th onward for major diseases and death benefits with the same premium.
Cash coupons: equivalent to 20% of the Sum Assured in year 20th of the policy therefore you can travel, get heath-check or start any of your other plans.
Extends and enhances the protection benefits plus suits your utmost concerns:
- Common major diseases' benefits for male or female (depend on the gender of the life insured) up to the age of 65
- Traffic accident hospitalization for male up to the age of 65
Protects your spouse against the risk of death.
Product information:
Insured age: 18 to 50
Payment mode: Annual, Semi-annual, Quarterly, Monthly
Major diseases benefit specifically for male and female:
Female
- Additional Carcinoma-in-situ Benefit
- Additional Pregnancy Complications Benefit
- Congenital Anomalies Benefit
- Additional Re-constructive Surgery Benefit
Male
- Liver cancer
- Lung cancer
- Prostate cancer
List of 31 Major Diseases:
01. Cancer
02. Stroke
03. Encephalitis
04. Coma
05. Benign Brain Tumor
06. Parkinson's Disease
07. Paralysis
08. Muscular Dystrophy
09. Multiple Sclerosis
10. Medullary Cystic Disease
11. Heart Valve Replacement
12. Surgery to the Aorta
13. Coronary Artery Bypass Surgery
14. Myocardial Infarction
15. Major Organ Transplantation
16. Chronic Liver Disease
17. End Stage Lung Disease
18. Blindness
19. Loss of Limbs
20. Loss of Hearing
21. Loss of Speech
22. Kidney Failure
23. Chronic Relapsing Pancreatitis
24. Severe Rheumatoid Arthritis
25. Poliomyelitis
26. Amyotrophic Lateral Sclerosis
27. Total and Permanent Disability
28. Terminal Illness
29. Aplastic Anemia
30. Major Burns
31. Systemic Lupus Erythematosus (SLE)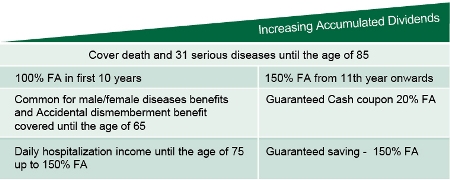 Example:
Female, age 31, enrolls a Gift of Love with Sum Assured of VND 200 mil , premium term of15 years and policy term of up to attained age 85. With annual premium of VND 12 mil customer will have the following benefits:
31 Major Diseases benefit up to the age of 85
First 10 years: VND 200 mil
From year 11th onward: VND 300 mil.
Hospitalization benefit
Daily benefit: VND 0,4 mil
Maximum 750 days: VND 300 mil.
Additional benefits up to the age of 65
For each female major diseases: VND 40 mil
Cash coupon at the age of 51: VND 40 mil.
Maturity benefit: VND 300 mil plus accumulated dividend, estimated total benefit VND 4,2 bill
Dividend and Cash Coupon is accumulated with estimation interest at 8% per year.
Added insurance benefits to riders
Just need a small additional amount for the riders; you and your dependants will significantly enjoy more insurance benefits.
Rider
Benefits
Accidental death
Cover for death, disability (depending on level of disability), or permanent total disability with the compensation levels up to 4 times of main product's insurance fee.
Term Life
Cover for death case with the compensation levels up to 5 times of main product's insurance fee.
Medicash
Cover for hospitalized subsidy each day if the insured stay overnight due to accident or illness.
Add up maximum 5 dependants.
Waive of Premium
The premium of base policy will be waived if the policy owner is total permanent disability.
Special waive of premium
The premium of base policy will be waived if the policy owner is death. Is attached to Waive of Premium rider only.
Do you want to explore more?

For further information about these products, please contact us at 1900 1276 or arrive at your nearest ANZ's branches.
Gift of Love is designed by Manulife Vietnam Co. Ltd. - 75 Hoang Van Thai St., Dist.7 and is exclusively distributed by ANZ Bank (Vietnam) Limited.