Feel secure with ANZ Credit Card SMS Alert!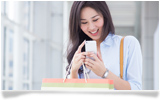 Securely manage your spending with ANZ Credit Card.
Be notified for every transaction made, either retail or cash withdrawal, within 5 minutes
Enjoy peace of mind from unauthorised transactions and fraudulent activity
Opt out the service, please call 1900 1276 extension 2.
Be notified for every payment made for Credit card bill through any payment channel that ANZ offers
SMS notification is sent the following working day for payment made today, via registered mobile phone number for ANZ Credit Card.
Free of charge service
Activate your Credit Card
No set up or registration is required for SMS Banking service
Check your Credit Card balance and status on the go

How to text:
SMS Banking
SMS
To get
Text ACT <4 last card digits> to 8069
To activate your Credit Card
ex.: Text ACT 5079 to 8069
Text BAL to 8069
Your daily Credit Card outstanding balance
Text DUE to 8069
Your due amount, due date, minimum due amount and Total payment from last statement date
Text SO CC to 8069
Promotion offers of Credit Card
Note: Service Provider Fee*:
VND 1,000/SMS (Vinaphone, Mobifone, Viettel)
VND 500/SMS (Vietnamobile, Gtel)
* Effective from 1st July 2016.