Your way to receive more.
Receive a premium suitcase just from using your ANZ Visa Debit Card.
Promotion period: 01 September to 31 October 2014

Simply swipe for shopping, dining, groceries or online purchases and enjoy the convenience that comes with using your ANZ Visa Debit Card everyday.
And get a chance to be rewarded with a free premium suitcase worth VND 1.98 million.
ANZ SPOT – All year-round privileges with your ANZ cards.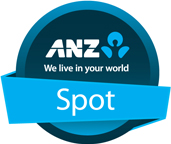 Hundreds of merchant offers on shopping, dining, travel, health and well-being are waiting for you!. Just use your ANZ Debit cards at over 400 ANZ SPOT merchants in Vietnam and around the world, you will enjoy these great rewards instantly, all year-round!
ANZ Spot privileges and benefits
To find out more, call the ANZ contact centre or get answers to common questions.