Charles Rickey
CEO of ANZ Bank (Vanuatu) Limited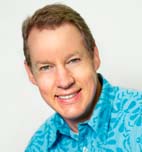 Charles Rickey is an Australian financial services executive with over 25 years of experience in all aspects of banking. He has been in his role as CEO ANZ Vanuatu since November 2014, with overall responsibility for the bank's franchise in Vanuatu, including Retail and Consumer Lending, International Banking, including Trade and Transaction Banking, as well as the internal units of Risk, Governance and Compliance.
Originally from regional Victoria, Australia, Charles has worked in a range of global financial centres including Melbourne, New York and London and on short term assignments in Singapore, Hong Kong and Sydney.
More recently, Charles was Executive Director and State Head of ANZ's International and Institutional Banking team responsible for the Consumer and Agribusiness Segment. Beyond this, Charles has also worked in other industry sectors including Natural Resources Group, Utilities and Infrastructure, Global Commodity Traders, Aerospace and Defence and Diversified Industries.