ANZ in Vanuatu/Our People
Rufus Pinto
Country Head, ANZ Bank (Vanuatu) Limited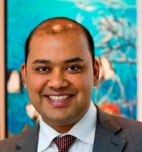 Rufus Pinto is the current Country Head of ANZ Vanuatu and New Caledonia, reporting to ANZ Regional Executive Pacific, Tessa Price.
Mr Pinto transitioned into the role in August 2016 from his role as CEO for ANZ Kiribati. He is an experienced banker with a career spanning over 15 years in banking and financial services in India, Australia and the Pacific. Originally from India and now a naturalised Australian Citizen , Mr Pinto has worked across various banking areas over the course of his career, including Retail, Commercial, Private and Corporate/Institutional.
Mr Pinto also has oversight responsibility over ANZ Kiribati.