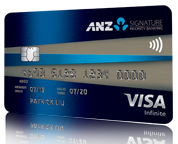 ANZ Signature Priority Banking Visa Infinite Credit Card
Earn up to 3.2 air miles on your highest foreign currency spend within each month, and 0.8 air miles for other foreign currencies and local spend.
Please note that by clicking the Wolero and/or Dragonpass links above, you will be leaving the Australia and New Zealand Banking Group Limited (ANZ) website and entering the Wolero and/or DragonPass website, a third party site that ANZ doesn't own or operate. Wolero and/or DragonPass is solely responsible for the website, content, offerings, information collection, use and sharing practices and level of security. Please refer to the posted privacy policy and terms of use, which are located on the Wolero and/or DragonPass website and are administered by Wolero and/or DragonPass. You will be taken to Wolero and/or Dragonpass website and may be asked to enter your personal details and card information. Please do not click the Wolero and/or Dragonpass links above if you do not want to continue to Wolero and/or DragonPass website.
You need Adobe Reader to view PDF files. You can download Adobe Reader free of charge.