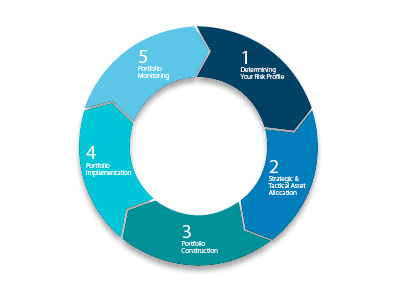 Determining your risk profile
We will first establish your risk profile via a simple questionnaire, in order to determine your risk tolerance level, your risk taking abilities and your investment objectives. The level of risk you accept will have a direct impact on the likely returns of your portfolio.
Strategic & Tactical asset allocation
We will regularly monitor the economy and markets to identify any shifts and changes. In response to these changes, we will implement tactical tilts to your strategic portfolio to take advantage of the short and medium term opportunities, and to provide downside protection should the market conditions move unfavourably.
Portfolio construction
Our financial advisory representatives will construct your portfolio with the optimum risk/return benefits most appropriate for your needs.
Portfolio implementation
After you have reviewed and agreed our recommendations, we will implement your portfolio in an efficient manner.
Portfolio monitoring
We will conduct ongoing management and advice of your portfolio to ensure performance is monitored and your investment objectives continue to be met.
Please contact ANZ Private Bank to find out more.