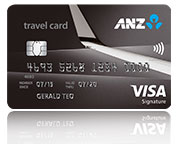 ANZ Travel Visa Signature Credit Card
Your ticket to the world.
Earn 1.4 air miles with every S$1 retail spend (with effect from 1 June 2017)
Redeem airport limousine transfers with Travel$ via the ANZ Travel Card Rewards Programme.
Eligibility
Applicants must be between 21 and 65 years of age
Singapore Citizens and Permanent Residents: Minimum income of S$60,000 p.a.
Foreigners: Minimum income of S$90,000 p.a.
Annual fee
Principal Card: S$200 p.a. (waived for the first year)
Supplementary Card: S$100 p.a. (waived for the first year).


How do I apply?

Have us contact you
Where can I get more information?

Call our 24-hour Customer Service at 1800 269 2269
 

E-mail us
 
Calculation is based on Krisflyer miles. 1 Travel$ = 1 air mile. This is an extract. For details view full terms and conditions (PDF 96kB).
Note: With effect from 2 May 2016, we will no longer enclose Business Reply Envelopes (BRE) with Credit Card statements. To download a copy of the BRE, please click here.
You need Adobe Reader to view PDF files. You can download Adobe Reader free of charge.