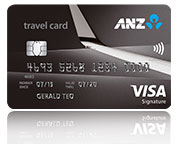 ANZ Travel Visa Signature Credit Card
Your ticket to the world.
Earn 2.8 air miles# per S$1 spent on your holidays for direct flight bookings with Qantas and Jetstar airlines or retail spend in Australia and New Zealand. (1 Travel$ = 1 air mile).
High earn rate of 1.4 air miles with every S$1 spent locally.
Receive 10,000 air miles+ upon annual card renewal.
Flexibility to convert your Travel$ to Cash Credit.

Important Notification
With effect from 1 June 2016, ANZ Travel Visa Signature Card complimentary airport limousine transfer programme will no longer be available.
You may redeem airport limousine transfers with Travel$ via the ANZ Travel card Rewards Programme.
Eligibility
Applicants must be between 21 and 65 years of age
Singapore Citizens and Permanent Residents: Minimum income of S$60,000 p.a.
Foreigners: Minimum income of S$90,000 p.a.
Annual fee
Principal Card: S$200 p.a. (waived for the first year)
Supplementary Card: S$100 p.a. (waived for the first year).


Exclusive Sign up Perks:
2,000 bonus miles + free luggage when you apply online.
Balance transfer for 6 months at 0% p.a. with 0% processing fee.
How do I apply?

Apply online for ANZ Travel Visa Signature Credit Card
 

Have us contact you
ANZ Supplementary Card 1,100 Travel Miles promotion

Sign up for an ANZ Supplementary Card by 30 September 2016 to receive 1,100 Travel Miles+! Applicable for existing Principal Cardmembers.
ANZ Supplementary Card application for existing ANZ Travel Visa Signature Credit Cardmembers:

Apply online
Where can I get more information?

Call our 24-hour Customer Service at 1800 269 2269
 

E-mail us
 
# 2.8 air miles promotion: Applicable to Existing Cardmembers and open to new Principal Cardmembers who successfully apply for an ANZ Travel Visa Signature Credit Card. The maximum number of Travel$ which can be awarded under the Promotion will be limited to 14,000 Travel$ per Principal Cardmember per calendar month. Approved Cardmembers with any retail spend in participating partners and/or merchants, including overseas spend in Australia and New Zealand, will be eligible to receive 2.8 air miles per S$1 equivalent of retail spend. Calculation is based on Krisflyer miles. 1 Travel$ = 1 air mile. This is an extract. For details view full terms and conditions (PDF 148kB).
+The annual renewal bonus gift of 10,000 air miles is effective from 1 October 2014 and valid from the 2nd year of Card membership for Cardmembers who renew and pay their annual fee.
Note: With effect from 2 May 2016, we will no longer enclose Business Reply Envelopes (BRE) with Credit Card statements.
You need Adobe Reader to view PDF files. You can download Adobe Reader free of charge.