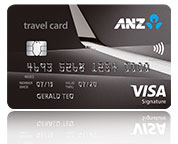 ANZ Travel Visa Signature Credit Card
Your ticket to the world.
Earn 2.8 air miles* per S$1 spent on your holidays at selected partners or in Australia and New Zealand. (1 Travel$ = 1 air mile).
Complimentary airport limousine departure transfers and unlimited complimentary access to airport lounges around the world.
Receive 12,000 air miles# upon annual card renewal.
Flexibility to convert your Travel$ to air miles, Cash Credit or/and Rewards Points.
* 2.8 air miles promotion: Applicable to Existing Cardmembers and open to new Principal Cardmembers who successfully apply for an ANZ Travel Visa Signature Credit Card. The maximum number of Travel$ which can be awarded under the Promotion will be limited to 14,000 Travel$ per Principal Cardmember per calendar month. Approved Cardmembers with any retail spend in participating partners and/or merchants, including overseas spend in Australia and New Zealand, will be eligible to receive 2.8 air miles per S$1 equivalent of retail spend. Calculation is based on Krisflyer miles. 1 Travel$ = 1 air mile. This is an extract. For details view full terms and conditions (PDF 92kB).
#The annual renewal bonus gift is valid from the 2nd year of Card membership and applicable for Cardmembers who renew and pay their annual Travel Card membership fee. 
You need Adobe Reader to view PDF files. You can download Adobe Reader free of charge.