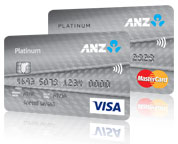 ANZ Platinum Card
Discover a world of privileges.
Stretch your rewards up to 20X more
ANZ Bonus Rewards Programme gives you even more Rewards Points when you spend at any of these participating merchants: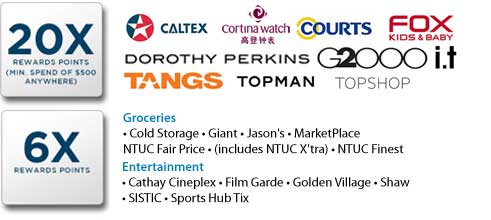 To enrol, SMS BONUS <space> Your 16-digit ANZ Credit Card number to 77288
Find out more about ANZ Bonus Rewards Programme

2X Rewards Points for online and overseas purchases.
The ANZ Platinum Credit Card lets you earn Rewards Points faster. Double your Rewards Points when you shop online or when you charge your purchases in any currency other than Singapore Dollars.

Dining privileges
Tickle your tastebuds with our spread of delightful dining deals you can enjoy all year round.
Find out more about dining privileges.

Up to 20.3% savings on petrol at Caltex
5% site discount plus additional $3 off for every $50 gross petrol purchase when you refuel at any Caltex service station.
Plus, earn 20X Rewards Points at Caltex with ANZ Bonus Rewards Programme.
Find out more about ANZ Caltex Promotion

Complimentary weekend parking at TANGS at Tang Plaza
Enjoy complimentary full-day parking on weekends at TANGS at Tang Plaza when you charge a minimum of S$100 at TANGS at Tang Plaza. Visit Customer Service, level 3 to redeem.
Find out more about complimentary parking.

SCAN AND GO WITH FASTER PAYMENTS
Make your transactions swiftly and conveniently with MasterCard PayPass or Visa payWave – contactless payment features widely accepted locally and globally. There is no need for the wait to sign or keying of a PIN. Simply scan your MasterCard or Visa card at the secure reader for transactions of less than $100 and go.
Eligibility
Applicants must be between 21 and 65 years of age
Singapore citizens and permanent residents: minimum income of S$30,000 p.a.
Foreigners: minimum income of S$60,000 p.a.
Annual fee
Principal card: S$160 p.a. (waived for the first year)
Supplementary card: S$80 p.a. (waived for the first year).


Exclusive Sign up Perks:
100 cash rebate + free luggage* when you apply online.
Balance transfer for 6 months at 0% p.a. with 0% processing fee.
Annual fee of S$160 waived for 1st year.

How do I apply?
For new Platinum Card and Supplementary card applications:

Apply online for ANZ Platinum Visa Credit Card
 

Apply online for ANZ Platinum MasterCard Credit Card
 
ANZ Supplementary Card S$20 cash credit promotion
Sign up for an ANZ Supplementary Card by 30 September 2016 to receive $20 Cash Credit #! Applicable for existing Principal Cardmembers.
ANZ Supplementary Card application for existing ANZ Platinum cardmembers:
Where can I get more information?

Call our 24-hour Customer Service at 1800 269 2269
 

E-mail us
Note: With effect from 2 May 2016, we will no longer enclose Business Reply Envelopes (BRE) with Credit Card statements.
You need Adobe Reader to view PDF files. You can download Adobe Reader free of charge.