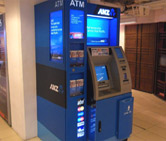 ANZ ATMs are a convenient and easy way to handle your cash transactions and daily banking needs. Utilising the ATM5 shared network gives you a wide coverage of ATM access of more than
220 ATMs of the ATM5 network
across Singapore.
Cash withdrawal
Withdraw cash up to a limit of SGD3000 per day (or SGD5000 per day for ANZ Signature Priority Banking customers).
Balance enquiry
Check your savings or current account balances.
Mini-statement
Check your transaction history through our mini-statement function. Print your last ten (10) transactions at no charge.
Funds transfer
Transfer your funds easily to your own account or to another account within the Bank.
Statement request
Request for a full current month statement of your financial relationship through the ATM. A service fee of SGD10 will be charged for each request.
Cheque book request
Get your replacement cheque book via a simple touch at our ATMs.
Credit card withdrawal
Get 24-hour access to cash anytime at over 1.8 million locations worldwide*.
*Fees and charges apply.
Overseas withdrawal
Get access to cash worldwide at any ATM that displays the Visa or PLUS logo. A service fee of SGD12 per withdrawal will be charged.
PIN change
Change your PIN regularly at any of our ANZ ATMs in Singapore and keep it confidential for secure transactions.
Loan balance(s)
Check your outstanding loan balances.
Time Deposit balance(s)
Check your Time Deposit balances, interests payable and maturity dates.
Application
If you have an existing ANZ account and would like to apply for an ANZ Debit card, please fill up the 24-Hour Banking Services Form (PDF 32kB)
Information