Important information
We are moving!
At ANZ, we continually seek to provide you with the best banking experience. As part of our continued efforts to provide you with a distinct banking experience, our Equity Plaza Branch will move to the Raffles Branch located at Singapore Land Tower, Level 1 on Monday, 21 November 2011.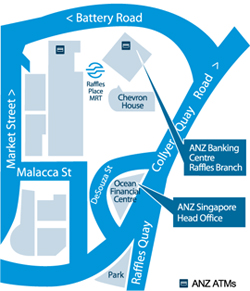 You can continue to carry out your Automated Teller Machine (ATM) transactions by accessing our local ANZ ATMs and the shared ATM network islandwide. Alternatively, you can visit our other branches at Orchard, Marine Parade and Thomson. Our branches' operating hours remain unchanged and details are as follows:

Orchard Branch
360 Orchard Road
#02-01 International Building
Singapore 238869

Marine Parade Branch
Block 87 Marine Parade Central
#01-500 2nd Storey
Singapore 440087

Thomson Branch
301 Upper Thomson Road
#01-38/41 Thomson Plaza
Singapore 574408
Cash and counter services operating hours for all branches
Monday to Friday: 9.00am to 3.30pm
Saturday9.00am to 11.30am
Please call our 24-hour Customer Service Hotline at 1800 269 2269 (or +65 6269 2269 if overseas) or visit us at anz.com.sg for assistance.
Thank you for your understanding and we look forward to welcoming you with a brand new banking experience at our new Raffles Branch come 21 November 2011.
Outsourcing of our banking services
Australia and New Zealand Banking Group Limited, Singapore branch ('ANZ') is constantly looking at ways in which we can improve our service and customer experience. To achieve this we may from time to time engage the services of our head office, its branches, subsidiaries or affiliates and third parties (collectively 'service providers') for activities such as back office operations and technology infrastructure support services of ANZ.
ANZ only engages service providers who meet ANZ group standards and subscribe to our values – acting with integrity, collaboration, accountability, respect and excellence. ANZ is committed to maintaining security and privacy with respect to all customer and transaction information. Whether the service provider is located in Singapore or elsewhere, our service providers are required to adhere to obligations of maintaining information security and customer confidentiality to the same standard as ANZ is committed and responsible for.
The laws in Singapore and elsewhere may require ANZ and our service providers to disclose information relating to ANZ's customers to relevant authorities from time to time. We would like to assure you that the circumstances under which we and our service providers may be required to do so are limited and include compulsion under law, court order, police investigations or criminal prosecutions.