ANZ employs security measures to ensure that your transactions and personal information are protected. However, you can also play a big part in protecting your banking and personal information.
To help you, we have developed a number of tips and hints covering the areas of:
Always use hard-to-guess passwords.
Passwords will only keep outsiders out if they are difficult to guess! Do not share your password and do not use the same password in more than one place. If someone should happen to guess one of your passwords you do not want them to be able to use it in a number of places.
Remember the five golden rules of passwords.
Do not choose a password that is easily identified with you (for example, any User ID, your date of birth, telephone number or your name or any part of it).
A password should have a minimum of eight characters, be as meaningless as possible and use uppercase letters, lowercase letters and numbers without repeating any digit and character more than once (eg. xk28LP97).
Change passwords regularly, at least every 30 days. Never reuse an old password.
Do not give out your password to anyone! Be wary of unsolicited calls or emails requesting personal information or card numbers. Neither ANZ nor the police would ask you to disclose your PIN or password information.
Do not record your password even if it is disguised.
Keep your User ID and password secret.
To ensure you are the only person that knows your personal access information, all access to your computer and banking information should not be written down or accessible to other persons, even if you believe it is disguised.
Do not disclose your password to anyone including a family member, friend or an ANZ staff member.
Notify ANZ immediately if you become aware that your password has become known or used by someone else.
If you suspect that your password has become known to a third party, immediately contact the ANZ Internet Banking Support Centre to have your password reset.
Staying safe when using ANZ Internet Banking in public places
Be wary of your surroundings and ensure no one is observing you when entering your User ID or password.
Never click on links embedded within emails. Always enter the URL directly into the location/address bar.
Ensure that there is a padlock symbol in the bottom or top right corner of your browser.
Never select the 'save my password/details' option if offered.
Never change security details such as your password in a public place (for example: libraries, Internet cafes).
Do not leave your computer unattended or idle for long periods of time.
Always log out from your Internet Banking session when you have finished and close the browser.
Only use ANZ Internet Banking from computers that have anti-virus software installed.
Protect your computer by keeping your virus protection software up-to-date
A computer virus is a program that attaches itself to another program, but changes the action of that program so that the virus is able to spread. Viruses range from harmless pranks to programs that can destroy or disable a computer.
A Trojan horse is a malicious program disguised as something harmless, such as a game or a screen saver, but in fact contains hidden code that allows an intruder to take control of your computer without your knowledge.
Anti-virus software is designed to better protect you and your computer against known viruses, worms and Trojan horses.
Being protected means three things:
Having anti-virus protection on your computer
Checking for updates to your security software for your computer regularly
Scanning all the files on your computer regularly, including incoming and outgoing emails.
For more information see Security software.
Use a firewall as a gatekeeper between your computer and the Internet
A firewall is a piece of software or hardware that filters all Internet traffic between your computer and the Internet. It works to either block or permit Internet traffic to and from your computer. You can use the firewall to better protect your home or business computer and any personal information it holds from offensive websites, spam and unauthenticated logins from potential hackers.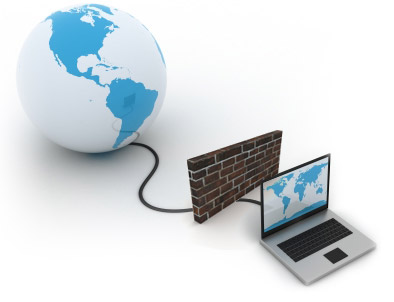 A firewall is essential for computers to that are connected to the Internet.
For more information see Security software.
Download the latest security upgrades for your computer on a regular basis
Having the latest security upgrades for your computer is essential in protecting your information on the Internet. To do this, check your software vendors' websites on a regular basis for new security upgrades, or set your computer to automatically check for upgrades regularly.
Be cautious! Do not open email attachments from unknown sources
Email is one of the prime movers for viruses. Regardless of how enticing the subject or attachment may appear, be cautious. Any unexpected email, especially those with attachments (from someone you may or may not know), could contain a virus and may have been sent without that person's knowledge from an infected computer. If you receive an email of this kind and you are suspicious, delete it.
Make sure your family members and/or your employees know how to keep safe when using the Internet
It's important that everyone who uses a computer is aware of proper security practices. All users should know how to update virus protection software, how to download security upgrades from software vendors and how to create a proper password.
The correct way to log on to ANZ Internet Banking
Always log on to Internet Banking by entering the website address www.anz.com/philippines into the address bar.
Never access www.anz.com/philippines from a link in an email. If in doubt, contact the ANZ Internet Banking Support Centre.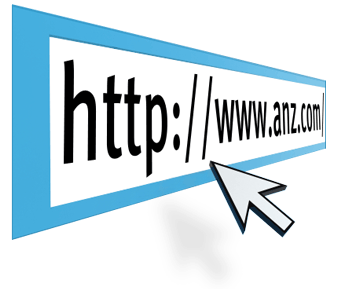 Look for the padlock symbol in your web browser
When logging on or entering personal information, look for the padlock symbol at the bottom or top of your web browser. The padlock symbol indicates that the page you are on has additional security. You can double-click the padlock symbol to view the certificate's details.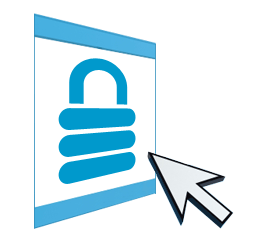 Do not leave your computer connected (online) when not in use
When leaving your computer unattended, you should either shut it down or disconnect the Internet connection. This lessens the chance that someone unauthorised will be able to access your computer.
When viewing or using your personal information on the Internet, be aware of your environment
You should take care when viewing or providing personal information in public. This should only be performed on a computer that you trust to be free of viruses or Trojan horses. Be cautious when accessing public computers or any computer you do not control.
What should I do if I receive a hoax email?
Delete the email
If you receive a hoax email, delete the email immediately. Do not click on any links and do not open any attachments. Never provide personal details such as your PIN, password, customer registration information or other log on details.ANZ does not send out emails requesting personal or account information.
Report the incident
All hoax email incidents should be reported to the ANZ Internet Banking Support Centre.
Scan your computer for viruses
Many hoax emails contain viruses or Trojan horses, which are downloaded to your computer when you open infected attachments or links. If you have clicked on any items within the email, run a complete virus check of your computer. ANZ recommends that you perform virus scans on your computer regularly.
Reset your Internet Banking password
After scanning your computer and ensuring it is free of viruses or Trojan horses, reset your ANZ Internet Banking password by calling the ANZ Internet Banking Support Centre.
I don't have anti-virus protection
Computers without anti-virus protection or out-of-date anti-virus protection are vulnerable to viruses or Trojan horses. Anti-virus programs are a simple and inexpensive way to protect your personal details from these threats.
For more information see Security software.
ANZ recommends that you do not use ANZ Internet Banking until you have up-to-date anti-virus protection.
I received an email from another financial institution requesting my personal details
Cyber thieves can generate emails that imitate any organisation or financial institution. You may receive emails imitating organisations that you may or may not have affiliations with.
If you receive an email claiming to be from another organisation or financial institution, that is requesting your personal details, please follow steps for dealing with receiving a hoax email.
ANZ strongly recommends that you install and maintain protection software that includes at a minimum Firewall, Anti-Virus and Anti-Spam functionalities, which are kept up-to-date.
A number of different vendors produce complete suites of Internet security software such as the ones provided by:
Note: No protection software will completely guarantee against unauthorised access or virus contamination, but it may increase the security of your computer systems. ANZ does not receive commission from the sale of any software.