We take the security of your personal and account information seriously. That's why we've got a range of security measures to ensure that your transactions and personal information are protected. Find out more about
As a customer you can also play a big part in protecting your details and making sure your safe online. Find out more about our tips for protecting yourself online.
Challenge Questions
Challenge questions are a security feature that adds an extra level of protection. They're three questions that you set up with your own personal answers which help us verify your identity when you're doing certain transactions in Internet Banking.
Why are we introducing challenge questions?
We take the security of your personal information and money very seriously. That's why we're always looking to improve our security measures and stay ahead of the fraudsters. Challenge questions are our newest security measure to help us do this.
What if you haven't set up your challenge questions yet?
Don't worry, your Internet Banking is still protected by world-class security but you can make it even more secure by setting up your challenge questions.
Over the coming weeks, everyone will be prompted to set up their challenge questions when they log onto Internet Banking. But you can go ahead and do this now, just follow these simple steps.
What you need to do
Log onto ANZ Internet Banking
Once you're logged in you can set Challenge Questions up by clicking 'Update Details' and 'Set up my challenge questions'
Select and answer the three challenge questions shown on screen
You're done! It's that easy.
ANZ Shield
We're committed to helping you bank simply and safely. That's why with ANZ Shield, you now have the option to add an extra layer of security to your ANZ Internet Banking.
ANZ Shield is a free security app for Android and iPhone. It allows you to generate a one time passcode - known as a Shield Code - to authenticate certain ANZ Internet Banking payments and activities.
Who can use ANZ Shield?
You're eligible to register for ANZ Shield if you:
Are a personal or business customer using ANZ Internet Banking
Have an iPhone running iOS 5.0 or above
Have an Android phone running Android 2.2 (Froyo) or above.
If you're a business customer using ANZ Internet Banking for Business, you will continue to use your existing ANZ Security Device which already provides you with an additional layer of security. ANZ Shield is available for use with ANZ Internet Banking only.
For more information visit ANZ Shield.
SMS Notifications
SMS notifications are sent to your mobile to notify you that certain transactions have been performed via your ANZ Internet Banking or Mobile Banking.  If you or a linked customer did not perform the transaction, immediately notify us on 13 33 50.
Why is ANZ sending Customers an SMS notification?
ANZ is taking various measures to make online and mobile banking more secure for its Customers. Sending SMS notifications for certain high risk transactions is one such measure to ensure you have a safer, more secure Online Banking experience with ANZ.
What information will the SMS provide?
The SMS will provide you with the transaction amount, the last four digits of the payee account number and the channel (Mobile or Internet banking).
I received an SMS Notification from ANZ but do not recall performing the transaction. What should I do?
Please check your account via Internet or Mobile banking first to verify the transaction. If you or an authorised Customer linked to the account did not perform the transaction, please call 13 33 50 immediately.
How often will I receive this SMS?
The SMS is triggered only when certain transactions are performed and it will depend how often these transactions are made by you. SMS Notifications are an important way that ANZ is making sure your banking is safe and secure.
If more than one person is linked to a personal or business account, who will receive the SMS Notification?
The SMS will be sent to the saved mobile number of the primary Customer linked to the account.
Fraud detection system
We use sophisticated technology to monitor Internet Banking transactions and identify suspicious activity. Our Fraud Detection System looks for patterns of transactions and new behaviour which may indicate that a transaction is fraudulent. If we detect fraudulent activity, we'll attempt to contact you and temporarily freeze your Internet Banking access in order to prevent further fraudulent transactions.
We will continue to enhance our Fraud Detection System and strengthen our monitoring processes.
Encryption
Encryption is turning words and numbers into a coded language. Encryption prevents unauthorised users from being able to change or read your data. ANZ encrypts your personal data using 256-bit SSL (Secure Socket Layer) encryption technology. You can identify whether the Internet Banking session is secure or encrypted when you see https:// in the Address bar and/or when you see a padlock in the browser window. You can double click on the padlock to view the Digital Certificate i.e. the electronic signature to view details.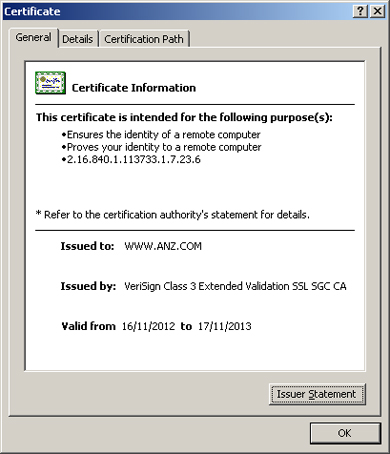 Extended Validation certificates
ANZ Internet Banking now offers additional security in the form of Extended Validation certificates to improve online security and make your banking experience even easier.
With this feature you can be sure you are on a legitimate ANZ Internet Banking website by simply looking for the green address bar displaying 'Australia and New Zealand Banking Group Ltd (AU)' in your browser (this may be truncated due to space restrictions).

Browsers that support Extended Validation certificates: 
Microsoft Internet Explorer 7 and above
Mozilla Firefox 3 and above
Safari 3.2 and above
Google Chrome
If you currently use an unsupported browser version and wish to make use of Extended Validation certificates, please follow the appropriate link below to upgrade your browser:
ANZ's Extended Validation certificates are issued by VeriSign- a leading Internet authentication organisation. This provides an authoritative view on the authenticity of the website that you can trust.
Automatic time-outs
Within the ANZ Internet Banking system, your banking session can remain unattended for a maximum of 15 minutes. After this time, the system automatically 'logs off' and ends your session.
Remember, if you are not using your computer for a period of time, make sure you 'log out' completely from the ANZ Internet Banking system so that sensitive banking information cannot be viewed by others.
To find out how to optimise your security visit our Software settings guide to ensure your browser has the appropriate settings selected.
Further information about the security of your account transactions and enquiries is contained within the Guidelines for your card and password security (PDF 140kB).
ANZ Internet Banking guarantee
When using ANZ Internet or Mobile Phone Banking, we've got security measures in place designed to protect you against any unauthorised transactions. In the unlikely event that you are a victim of fraud, we guarantee that you'll be reimbursed for any unauthorised transactions. This is provided that you have complied with the ANZ Saving and Transaction Products Terms and Conditions (PDF 480kB).
Also, we guarantee that unauthorised transaction claims of up to $10,000 will be reimbursed within five business days of receiving your completed documentation and it is clear you have not contributed to the loss.
It's all part of our commitment to more convenient banking.
You need Adobe Reader to view PDF files. You can download Adobe Reader free of charge.